Euro 2020: Mourinho Places 'Huge Curse' On Referee For Awarding Penalty During England vs Denmark Game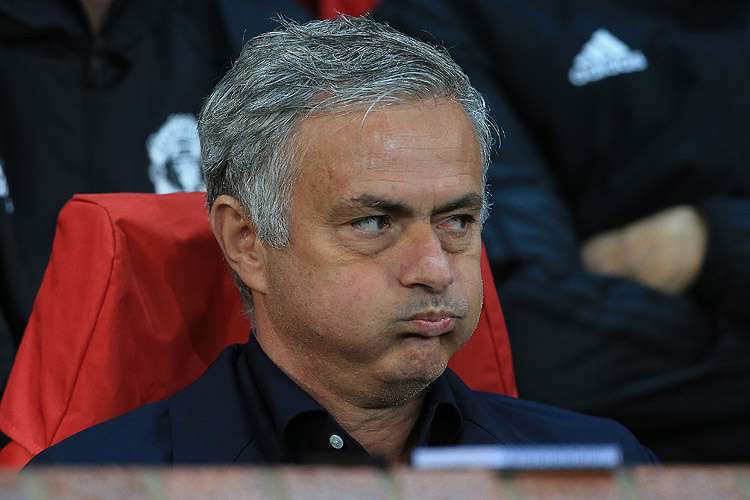 Outspoken football coach, Jose Mourinho has expressed huge disappointment over the penalty awarded to England in their Euro 2020 semi-final victory over Denmark on Wednesday night.
Though he agreed that England was the better team in the game, he disagreed with the extra-time penalty awarded against Denmark by the referee, Danny Makkelie.
Naija News reports with the game tied at 1-1 after normal time, the match headed for extra time.
The debate arose after the referee awarded a penalty against Denmark when Joakim Maehle was judged to have controversially fouled Raheem Sterling.
The resultant penalty taken by Harry Kane was saved by Denmark goalkeeper Kasper Schmeichel but the Tottenham striker was alert to slot home the rebound.
The goal proved enough to give England the win and earn them a place against Italy in the Euro 2020 finals at the Wembley Stadium on Sunday.
The dramatic 2-1 win gave England a place in the final of a major football tournament in 55 years sparking wild jubilations and hopes from the fans and layers.
However, the drama surrounding the penalty has cast some shadow over the win by the Gareth Southgate-led Three Lions team.
Asked to comment on the game, Mourinho told talkSPORT on: "Yes, amazing game, but I'm not sure you want to listen to my opinion."
"But I say it the way I see it and I don't believe the referee is going to sleep well!"
"I say the way I see it, not the way it is. Maybe you don't like my opinion this time….
"It's never a penalty. The best team won, England deserved to win. England was fantastic, but for me it's never a penalty.
"But, for me, it's never a penalty. At this level, a semi-final of a Euro I don't really understand the referee's decision.
"And I don't understand even less the fact that the VAR didn't bring the referee to the screen or overturn the decision. For me it's never a penalty.
"But as a football man, I am disappointed that a penalty was given. I thought England would win it.
"The Danish team was really, really tired in extra time. The players were absolutely at their limits.
"I thought England would win in extra-time. As a football man I'm not happy with that penalty. I would prefer to win in a different way."
The Euro 2020 final comes up on Sunday between England and Italy at the Wembley Stadium by 8pm (CAT).