Nnamdi Kanu Never Jumped Bail, Ran For His Life – Ejiofor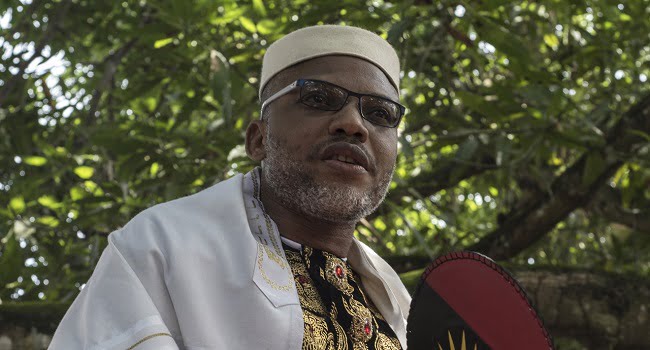 The lawyer to the leader of the Indigenous People of Biafra, Nnamdi Kanu, Ifeanyi Ejiofor, on Monday, denied that his client jumped bail and escaped to another country to avoid trial.
Recall that the IPOB leader was absent from trial following an alleged raid on his residence by security operatives in September 2017.
Ejiofor during an interview with Arise News on Monday accused President Muhammadu Buhari-led government of trying to assassinate Kanu due to lack of evidence against him.
"Nnamdi Kanu never jumped bail. He was planning to attend his trial when his home was bombarded by the military on September 14, 2017, and he escaped death by the whiskers. The Federal Government were not planning to prosecute him because they had no evidence against him. That was why they went after his life."
"He is being subjected to mental torture as we speak. None of his relatives has been able to visit him."
Naija News had earlier reported that Ejiofor also insisted on the involvement of the Kenyan government in the rearrest of his client.
"There was a clear collaboration between the Kenyan government and the Nigerian government. I am happy that they are denying the fact Nnamdi Kanu was arrested on their soil but I can assure you that when we are done with them at the International Court, they will never remain the same.
"He was arrested at the airport on the 19th of June, 2021. He was taken to an unknown residence where he was subjected to inhuman treatment. After spending 8 days in their custody, the Kenyan government called on their Nigerian counterpart to come for him. He was unconscious when they came for him. They never informed me that my client was abducted. I did not know what was going on until he appeared in court that Tuesday," Ejiofor said.