Nnamdi Kanu: 'Biafra Govt' Issues Directive To Buhari Govt Over Arrested IPOB Leader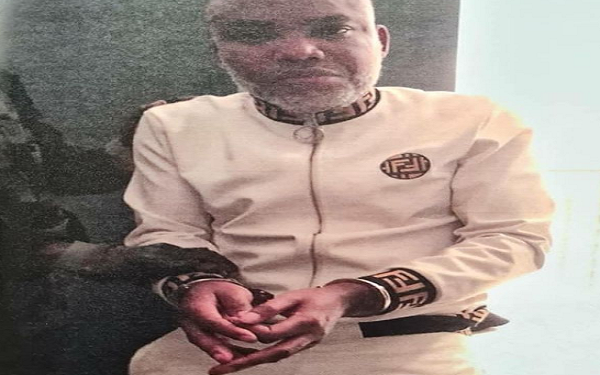 The 'De-facto customary government of Biafra' has asked the Muhammadu Buhari-led federal government to ensure IPOB leader, Nnamdi Kanu's trial is done within the standard of the conventional rule of law.
Recall that IPOB leader, Nnamdi Kanu was reportedly rearrested in Kenya and extradited back to Nigeria on the 27th of June, 2021.
He was then arraigned before Justice Binta Nyako who ordered his remand in the custody of the DSS until his next trial date.
Kanu, who is facing an 11-count charge of treason, treasonable felony, terrorism and illegal possession of firearms, among others, jumped bail in 2017 and left the country, only to re-emerge in Israel and then in the United Kingdom.
Now facing criminal charges following his re-arrest, the federal government accused the pro-Biafra activist of orchestrating the killing of 60 people.
Reacting in a statement on Sunday, the Biafran government stated that it is monitoring the situation involving their citizen.
The statement read, "Our official reliable source has it that citizen Nnamdi Kanu has been arraigned by the Nigerian authorities. The circumstances are yet to be clarified.
"The Government of Biafra reiterates that clarity, certainty and labelling of offences in the Nigerian criminal justice system remains an open question; hence must be proven beyond a reasonable doubt.
"Therefore, the Government of Biafra is keenly monitoring the trends of this incident within the standard of the conventional rule of law.
"The Government of Biafra distinguishes her immense contribution to fundamental human rights and present-day restoration struggle from any action of unnecessary recklessness and abetting of crimes by internal or external individuals, state agencies or groups.
"Rule of law and justice of which much has been given with the blood of Biafrans must prevail."