Nnamdi Kanu: Rearrest, Repatriation Not Illegal – Malami Insists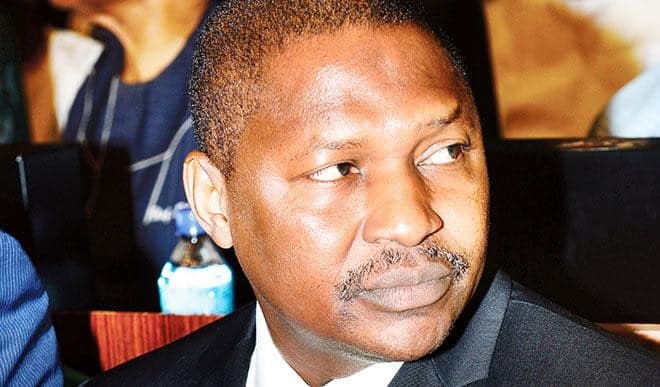 The Office of the Attorney General of the Federation and Minister of Justice has insisted that it followed due process in the rearrest and repatriation of the leader of the Indigenous People of Biafra (IPOB), Nnamdi Kanu.
Recall that Nnamdi Kanu was reportedly rearrested in Kenya and extradited back to Nigeria last Sunday.
He was then arraigned before Justice Binta Nyako who ordered his remand in the custody of the DSS until his next trial date.
Kanu, who is facing an 11-count charge of treason, treasonable felony, terrorism and illegal possession of firearms, among others, jumped bail in 2017 and left the country, only to re-emerge in Israel and then in the United Kingdom.
Speaking to The PUNCH, The Special Assistant to AGF Malami on Media and Public Relations, Jibrilu Gwandu, said the IPOB leader was represented by a lawyer throughout the judicial process that led to the grant of his earlier bail.
"Bench warrant was lawfully and judiciously procured through judicial process by a competent court of law, whose bail conditions he breached with impunity," he said.
"He (Nnamdi Kanu) has been represented by a counsel all through the judicial process and was never denied a right of choice of counsel or recourse to one, even when he symbolises a proscribed association (IPOB) in law and, in fact, his association has been legally proscribed.
"So, there was no illegality in the entire process."
Gwandu added that although the Office of the AGF had a meeting with the British High Commissioner on Thursday, the IPOB leader's rearrest was not discussed.
"The legality or otherwise of Nnamdi Kanu's arrest was not discussed in the meeting. I sent you a press release on the issues that were discussed. The meeting was scheduled long before the arrest," he said.