FLASHBACK: I Know Where To Buy Guns – Sunday Igboho [Video]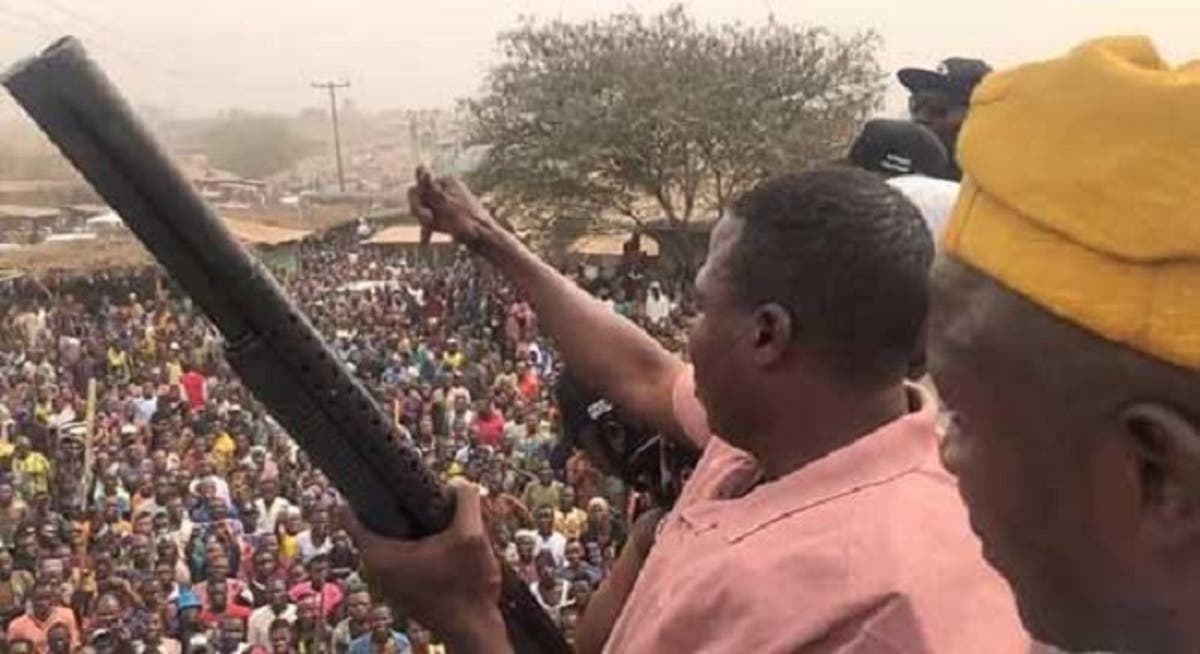 Yoruba nation agitator, Sunday Adeyemo, alias Sunday Igboho, had in the past boasted that "no government" can stop him from carrying firearms.
The wanted Yoruba activist stated this during one of his past meetings with a South-west traditional ruler.
In a video seen by Naija News on Saturday, Igboho, stated that he knows where to purchase guns.
The activist solicited donations to buy weapons for those who do not have guns.
"Let us buy for them. If they don't know where to buy guns, I will buy for them," he said.
"Let us buy guns for boys. No government can stop anyone from carrying guns at the moment. If they are caught with guns, they should mention my name that I gave them. Let them tell security operatives that Igboho gave them. I am making this video so it would be posted on all social media platforms. We are giving them guns bought to defend ourselves," Sunday Igboho said in the video.
Naija News recalls that the DSS had raided the residence of Igboho in Soka, Ibadan on Thursday morning.
After the raid, the secret police paraded 12 of Igboho's followers in Abuja on Thursday, saying one other was being profiled. The DSS also said two of Igboho's guards were killed during a gun duel.
It said a joint team of security operatives raided Igboho's residence early on Thursday based on an intelligence report that he was stockpiling arms.
"A team of joint security operatives raided the residence of Sunday Adeyemo at Soka in Ibadan. This was based on intelligence that he had stockpiled arms in the place," said DSS spokesman, Peter Afunaya.
Afunaya added that the team searched the house and subsequently recovered seven AK-47 assault rifles, three pump action guns, 30 fully charged AK-47 magazines, 5,000 rounds of 7.62mm ammunition, five cutlasses, one Jack knife, one pen knife, two pistol holsters, a pair of binoculars, a wallet containing $5, local and international driving licences in his name, ATM cards, a German residence permit No. YO2N6K1NY bearing his name; two whistles, 50 cartridges and 18 walkie-talkies.
Others are three charm jackets/traditional body armour, two laptops, one Toshiba and one Compaq laptops and his passport and those of many others.
But Igboho in a statement by his media aide, Olayomi Koiki, denied possessing the guns found.
He said the guns found in Sunday Igboho's house were 'government magic', stating that he only makes use of traditional powers for protection.