Biafra: What Buhari Must Do To Arrested IPOB Leader – Nnamdi Kanu's Kinsmen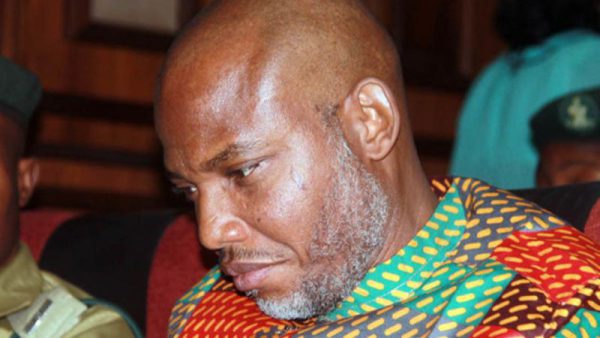 The kinsmen of the Leader of the Indigenous Peoples of Biafra (IPOB) Mazi Nnamdi Kanu, have called on President Muhammadu Buhari to dialogue with the pro-Biafra activist.
Recall that Nnamdi Kanu was reportedly rearrested in Kenya and extradited back to Nigeria last Sunday.
He was then arraigned before Justice Binta Nyako who ordered his remand in the custody of the DSS until his next trial date.
Speaking to Vanguard, the immediate-past President General of Isiama Afaraukwu community, Kanu's hometown, Chief Ikechukwu Ndubueze, expressed shock over the arrest of Kanu.
Ndubueze warned that arresting their son would not stop the growing agitation for the restoration of Biafra republic.
He wondered how Nnamdi Kanu who is a British citizen would be arrested and repatriated without following the rule of law.
"Where and how was he arrested? Was there a legal process? Was he arrested or abducted? These are some of the pertinent questions the Nigeria Government should be ready to answer," he asked.
"This is the time for the federal government to put everything on the table. It's time for discussion with all the parties," he said.
"Nnamdi has not been asking for his personal welfare; his agitation is for the freedom of Biafra and against marginalisation of Ndigbo.
"The federal government should consider his agitation. He is not fighting for himself; he is fighting for the freedom of his people.
"Government should stop pretending; if Nigeria was going well, do you think that the #EndSARS protests would have held? That was a signal that there is disenchantment in the land, and the earlier Government admits this obvious fact the better for all."
Ndubueze slammed the federal government for not putting the same effort used in capturing Nnamdi Kanu in tracking and arresting bandits.
The APC chieftain also accused the federal government of making the IPOB leader popular, advising Government to rather engage him instead of persecuting him.
"You can't proscribe a group that was only agitating with flags calling for referendum to determine their fate. Civil agitation is not a crime but fundamental human right," he stated.
"It's the federal government that is making Nnamdi popular. The first time they arrested him was when they made him popular.
"This second time, they have turned the attention of the whole world on him again. Is it not better they listen to him and address the issue causing this agitation once and for all?"