Stop Taking Risks That Put You In Trouble – IGP Tells Police Operatives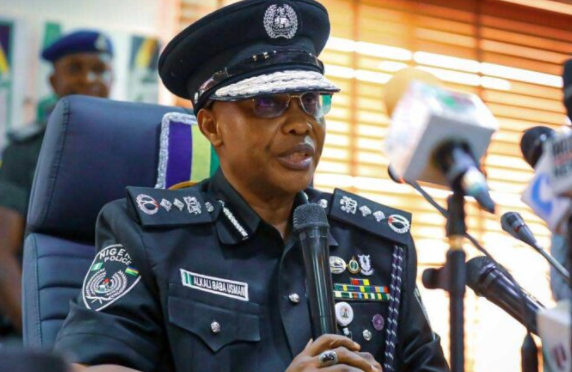 The Inspector-General of Police, Baba Alkali has warned police operatives to stop taking unnecessary risks that end up putting them in harm's way.
Alkali made the call on Friday in Imo State during the launching of the office of Operation Search and Flush in Imo State.
According to the Police boss, some unprofessional attitudes displayed by some cops in the discharge of their duties put them in hazard's way.
Alkali however commiserated with the families of such operatives who might have lost loved ones in the course of discharging their duties.
The IGP while assuring the cops of the commitment of the police authorities to their welfare urged them to reciprocate by being professional and committed to their duties.
He said, "Stop taking unwarranted risks. Many of you are in trouble today for your unprofessional conduct. Change your attitudes towards work. Change your attitudes towards members of the public. Change your attitudes towards your colleagues.
"We will continue to appreciate your commitment and sacrifices to protect Imo people and the society at large. I want to assure you that those who do their works accordingly will be rewarded and those who make mistakes will be punished, also."
Alkali appreciated the state governor, Hope Uzodinma for providing facilities and items that can help the police in the discharge of their duties in the state.
During the event, Governor Uzodinma presented cheques of N5m each to the families of the 21 policemen who lost their lives in the recent past in the state.
Meanwhile, President Muhammadu Buhari-led government on Friday disclosed that the leader of the Indigenous People of Biafra, Nnamdi Kanu, will be facing fresh charges.
The Minister of Justice and Attorney-General of the Federation, Abubakar Malami, stated this while speaking with journalists in Abuja.
Malami disclosed that the new charges will incorporate fresh allegations against the IPOB leader.
The current charges levelled against Kanu at the Federal High Court in Abuja border on terrorism, treasonable felony, unlawful possession of firearms and management of an unlawful society.
The Minister, however, noted that Kanu since 2017 when he jumped bail had more offences.