Latest Biafra/IPOB News For Friday, July 2nd, 2021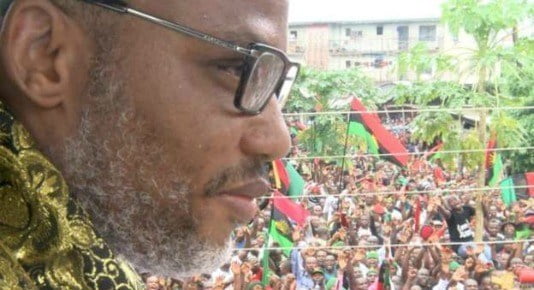 Good day, Nigeria, welcome to Naija News roundup of Biafra/IPOB news headlines for today Friday, July 2nd, 2021.
Below is a roundup of top stories on Biafra, IPOB, ESN, Nnamdi Kanu and other pro-Biafra groups:
The British High Commissioner in Nigeria, Catriona Laing, has been asked by the leader of the Indigenous People of Biafra, Nnamdi Kanu, to file a Diplomatic Note with Nigeria's Federal High Court indicating Britain's sovereign interest in his trial as a British citizen.
The IPOB leader in a letter written by his lawyer, Aloy Ejimakor, on Thursday called on the British authorities to declare that he is not a criminal but "a person who possesses a political opinion which the Nigerian authorities are seeking to suppress using punishment of some sort."
Ejimakor in the letter forwarded to the UK High Commission reiterated that Kanu, being a British citizen, did not travel with a Nigerian passport to Kenya where he was abducted.
The co-convener of Concerned Nigerians advocacy group, Deji Adeyanju, has accused the Department of State Services (DSS) of torturing the leader of the Indigenous People of Biafra (IPOB) Nnamdi Kanu, in custody.
Recall that Nnamdi Kanu was reportedly rearrested in Kenya and extradited back to Nigeria last Sunday.
In a series of posts on his Twitter page, the former PDP member claimed that the rearrested IPOB leader is being tortured, blindfolded for many hours, left on the floor in a cold air-conditioned room.
Deji Adeyanju urged Kanu's lawyers to pray the court to transfer the IPOB leader to a prison facility during his next adjourned date.
The Director-General of Immigration Services in Kenya, Alexander Muteshi, has dismissed the claims that the leader of the Indigenous People of Biafra, Nnamdi Kanu was arrested and extradited to Nigeria by Kenya.
An Official in the Kenya Ministry of Interior also noted that the ministry has no knowledge of Kanu's extradition to Nigeria.
The arrest of the IPOB leader has seen different angles to the development with some news outlets claiming that he was arrested in the Czech Republic, while some believe he was arrested in Kenya.
The Kenyan government officials in separate interviews with Reuters and Kenya's Nation newspaper denied the claim by Kanu's family that he was arrested in their country.