Nnamdi Kanu Set To Meet His Lawyers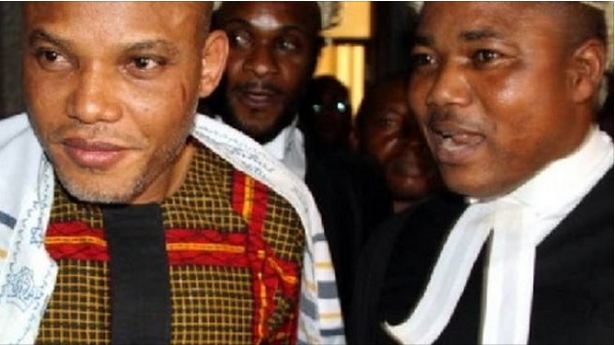 The arrested leader of the proscribed Indigenous People of Biafra (IPOB). Nnamdi Kanu is set to meet with his lawyers.
In a tweet via his Twitter page on Friday, counsel to the IPOB leader, Ifeanyi Ejiofor said the Department of State Security (DSS) has approved an application to meet with his client.
"Update, Thankfully Our effort is yielding the desired result, We have just received a communication approving Our visit to Our Client- Mazi Nnamdi Kanu. Shall keep the World posted on the outcome, immediately after the meeting, later in the Day. God is with Us,"  the tweet reads.
Naija News recall that Nnamdi Kanu was reportedly rearrested in Kenya and extradited back to Nigeria last Sunday.
He was then arraigned on Tuesday before Justice Binta Nyako of the Federal High Court, Abuja, who ordered his remand in the custody of the DSS until July 26th.
The pro-secessionist leader is facing several charges of terrorism, treasonable felony and illegal possession of firearms.
Earlier, the Indigenous People of Biafra (IPOB) had accused the secret police of plotting to kill its leader.
In a statement on Friday, IPOB's spokesman, Emma Powerful, called on DSS to allow Kanu access to his lawyers.
The statement reads: "Following the refusal of the Nigerian Government and her wicked security agency, the Department of State Services, DSS, to allow our leader Mazi Nnamdi Kanu's lawyers and family access to him in the dungeon of DSS secret cell, it is now confirmed that their real intention in kidnapping him and bundling him back to Nigeria is to kill him.
"The mission they could not actualise in September 14, 2017 when soldiers invaded his Afaraukwu home during Operation Python Dance is what they want to actualise now.
"His health has been detoriatorating in the DSS cell as he has refused to eat their food since almost one week they kidnapped him.
"We demand that DSS should allow him access to his lawyers and family members for this is his lawful right."