Latest Biafra/IPOB News For Thursday, July 1st, 2021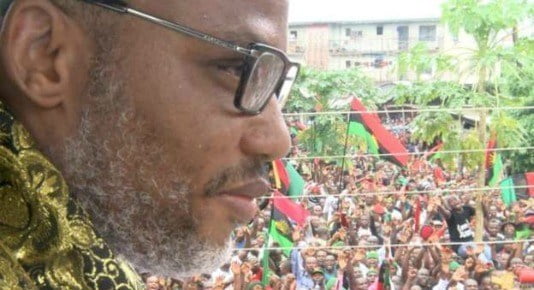 Good day, Nigeria, welcome to Naija News roundup of Biafra/IPOB news headlines for today Thursday, July 1st, 2021.
Below is a roundup of top stories on Biafra, IPOB, ESN, Nnamdi Kanu and other pro-Biafra groups:
An American lobby firm, BW Global Group, has reportedly engaged the United States government over the arrest of the leader of the Indigenous People of Biafra (IPOB), Nnamdi Kanu.
According to TheCable, Foreign Lobby, a Washington-based platform, quoted BW as saying it "had been in touch with the State Department and Congress" about the arrest of Kanu.
It was gathered that the pro-Biafra activist signed a contract with BW Global Group to help promote IPOB in a bid to achieve its secession objective of Biafra.
A document relating to the contract revealed that the $1750,000 deal reportedly took effect from March 1, 2021, and is expected to last for a year.
President Muhammadu Buhari-led government on Thursday disclosed that the leader of the Indigenous People of Biafra, Nnamdi Kanu, was arrested due to collaborations with Nigerian security, intelligence agencies and authorities from other countries.
The Federal Government, however, failed to disclose that the country where the IPOB leader was arrested.
The Minister of Information and Culture, Lai Mohammed, in a media briefing with newsmen on Thursday, was silent on the particular country Kanu was arrested.
He noted that the Nigerian government has an obligation with the countries that aided the re-arrest, stating that the Nigerian Government "will continue to respect and honour the obligations".
The President of Kenya, Uhuru Kenyatta has been accused by the Indigenous People of Biafra, of expressing affection for killer Fulani herdsmen in Nigeria.
IPOB in a statement released on Thursday noted that its leader was arrested by Nigerian security agencies in collaboration with the Kenyan government.
The spokesman of the group, Emma Powerful further stated that Kanu was arrested in Kenya.
Powerful who accused Kenyatta of betrayal added that it is a shame for him to partner with a 'terror-friendly government like Nigeria under President Muhammadu Buhari'.
A group of Igbo lawyers resident in the United Kingdom has condemned the illegal arrest and detention of the leader of the Indigenous People of Biafra (IPOB), Nnamdi Kanu.
In a statement on Wednesday signed by Barrister Ebuka Okoroafor, the legal practitioners under the auspices of the Coalition of Igbo-British Lawyers also condemned the Kenyan Government for arresting Kanu, who is also a British citizen, and handing him over to the Nigerian government.
They accused the Kenyan government of violating the human rights of Kanu, who possesses both Nigerian and British passports.