DSS Parades 12 Arrested Allies Of Sunday Igboho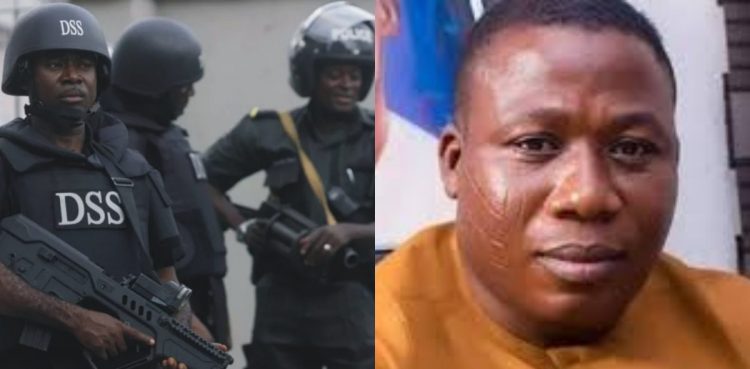 The Department of State Services (DSS) on Thursday night parased 11 men and a woman arrested after a fierce gun battle with Sunday Igboho Adeyemo in Ibadan, Oyo State.
The operatives recovered a cache of arms and also took the suspects to Abuja while Sunday Igboho escaped.
They were paraded this night by the Public Relations Officer of the DSS, Dr. Peter Afunanya.
Recall that the DSS haD confirmed the attack on the residence of Sunday Igboho, in Soka, Oyo State on Thursday morning.
The secret police also disclosed that two allies of the Yoruba Nation agitator were killed during an operation at his Ibadan residence.
Naija News reports that Igboho had told BBC Yoruba that he was in the house when the attack occurred and the gunmen identified themselves as DSS operatives and soldiers.
He added that he peeped from the window and saw their uniform as well.
According to Igboho, the invading gunmen apart from killing people in his compound also destroyed his property and vehicles with gunshots.
He said: "I just heard plenty bullet in my compound and gunshot in front of my house. They were shouting Sunday Igboho come out, we are DSS, we are soldiers, come out!
"So I peeped through the window, and I saw them DSS uniform, and soldiers, so I was surprised because I didn't kill anyone nor fight with anybody, what I'm doing is to fight for me people.
"All the rally I'm doing is a peaceful rally, so I'm fighting for my family too because all the bandits killed my family, raped them kidnapped them and take ransom from them.
"Government refused to do the right thing, that's why I came out to support my family to fight for our right. So I was surprised.
"Yes, I was in the house when they came. They killed about two guys. The shooting was too much. They destroyed all my properties, all my vehicles."