FG Reveals The Lifestyle Of Nnamdi Kanu Before His Arrest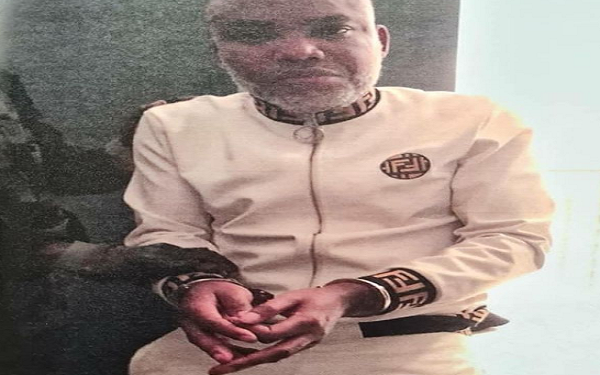 President Muhammadu Buhari-led government on Thursday revealed the kind of life the leader of the Indigenous People of Biafra, Nnamdi Kanu, was living before his arrest.
Recall that the IPOB leader was arrested and extradited to Nigeria on Sunday. Kanu was re-arraigned in court and ordered to be remanded in the custody of the DSS, while the case was adjourned till July 26.
The Minister of Information and Culture, Lai Mohammed, at a press conference on Thursday, said the IPOB leader before his arrest was living in luxury apartments, flying private jets and wearing designer outfits.
Mohammed said: "It will interest Nigerians to know that for over two years, our security and intelligence agencies were on the trail of the proscribed IPOB leader as he lived a five-star life across several countries, travelling on chartered private jets, living in luxury apartments and turning out in designing clothes and shoes."
"Of course, as we all saw, Kanu was wearing an attire made by Fendi, a luxury Italian fashion brand, when he was arrested."
Meanwhile, the President of Arewa Youth Consultative Forum, Yerima Shettima, on Thursday, alleged that some South-East Governors are sponsoring the leader of the Indigenous People of Biafra, Nnamdi Kanu, for their selfish political gains.
According to him, "We got classical information that certain governors in the South-East are working round the clock funding the IPOB leader, though it is not a new thing to us to know what they are using Nnamdi Kanu to blackmail the state and unleashing terror, killings innocent Nigerians and fighting against the sovereignty of the country.
"We are aware that some governors out of fear or selfish interest are funding him behind believing that he is the only person they put before them and believing that what he is doing, they will find a means of getting to power."