'Everybody Cannot Be Dumb' – Father Mbaka Attacks Buhari Govt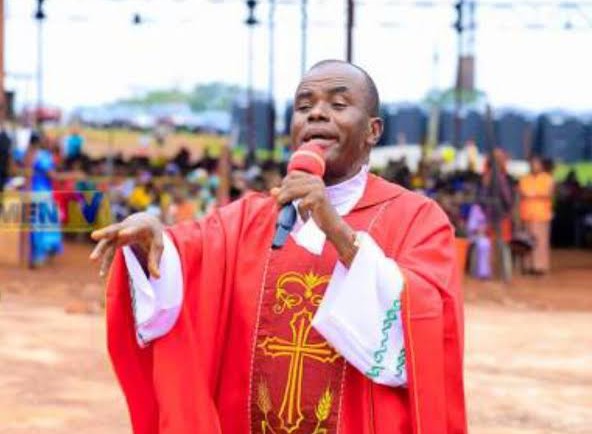 The Spiritual Director of the Adoration Ministry Enugu, Nigeria (AMEN), Rev. Fr. Ejike Mbaka, has berated the Muhammadu Buhari-led administration over the suffering in the land.
In a sermon, the fiery government critic claimed that the Buhari administration may arrest priests in the country for speaking the truth to power risk.
He however stated that despite the risk of persecution and incarceration, clergymen must not remain dumb.
"Suffering has become part of our history, but it will not continue like this forever," Mbaka said.
"Everybody cannot be dumb at the same time. Nigerians should not be suffering."
He lamented the fate of ordinary citizens and accused the nation's leadership of "wickedness".
Mbaka recalled that at a time, there was no banditry, kidnapping, and terrorism in Nigeria, except hooliganism which was at a "miniature level".
"At that time, leadership was not about money," Father Mbaka added.
"I'm seeing a time, if my brother priests do not begin to speak, we will hear that Bishop A, B, C, D has been arrested and handcuffed."
Mbaka who had recently started tackling a government he helped get to power was recently invited by the Security of State Services (SSS).
In other news, a socio-political organisation, Arewa Consultative Forum, has asked the Northern Governors to address the rising youth unemployment in the region.
Rising from a meeting of its board of trustees in Kaduna on Wednesday, the ACF noted that urgent steps should be taken to address the menace.
In a communiqué signed by the chairman of the Board of Trustees of the forum, Shehu Malami, at the end of the meeting said if urgent steps are not taken to address the plight of the youths, they would explode at any given moment.
It tasked Northern governors to industrialise the region, as well as establish financial institutions to facilitate employment and development.
The forum also expressed concern over the increasing wave of insecurity across northern states.
It noted that despite the efforts of the Federal Government, Boko Haram, bandits kidnappers, clashes between herders and farmers had been on the increase.