Nnamdi Kanu Was Reportedly Lured With Cash 'Donation' And Arrested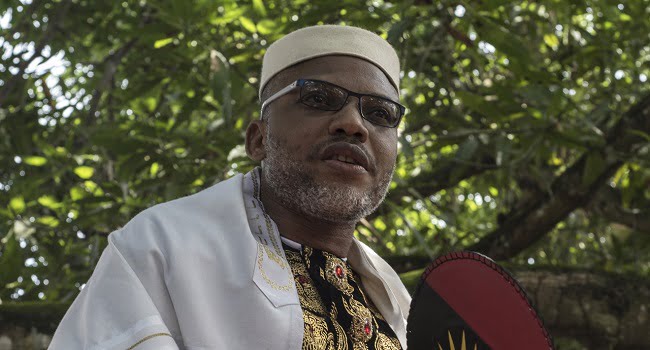 There are different angles to how the leader of the Indigenous People of Biafra, Nnamdi Kanu was arrested and extradited to Nigeria.
According to TheCable, security sources disclosed that the IPOB leader was lured to an African country with a promise of cash donation in millions of dollars.
Kanu who was facing charges bordering on treasonable felony following his campaign for the secession of the Republic of Biafra had jumped bail in 2017 after a military action on his family house in Abia state.
The security sources further stated that there had been operations to rearrest the IPOB leader until he was caught on Sunday, June 27.
"He was not arrested in the UK or Brazil or the Czech Republic. He was not crated either, contrary to speculations," the source said.
ThisDay in a report had claimed that Kani was intercepted in Addis Ababa, the capital city of Ethiopia.
It was also disclosed that he was tracked through some members of IPOB who were recently arrested following a military operation in the southeast.
The securities agencies had found a way to trick him and he decided to collect the money himself "because of the huge amount involved".
A further report had it that the IPOB leader did not inform his associates about his mission, according to the security sources who said the top hierarchy did not know his whereabouts on the day he was arrested.
He had been having a crisis of confidence with some of his lieutenants over financial matters.
Kanu upon his arrival at the location where he was expected to collect the donation was arrested by the country's security agencies and Interpol, and deported to Nigeria, the source said.