CJN Orders Appeal Court Judge To Retake Oath After Mentioning Allah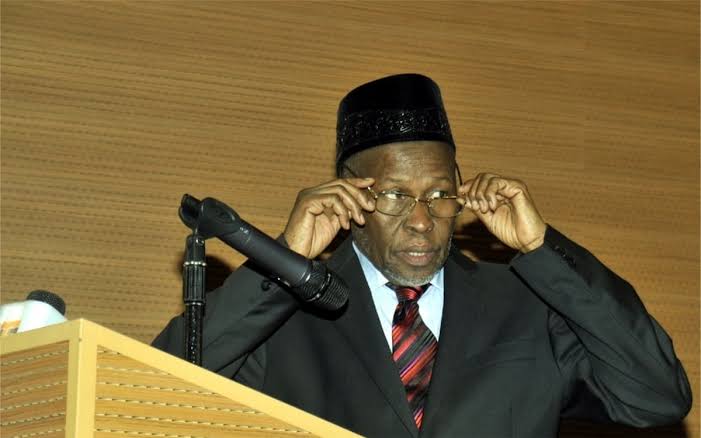 The Chief Justice of Nigeria, Tanko Muhammad, has ordered one of the 18 newly sworn-in Appeal Court judges, Justice Olasunbo Goodluck to repeat her oath of office after mentioning 'Allah' instead of 'God'.
The CJN turned heads after he ordered the judge to return to the podium and say, "So help me God", after breaking the 'So help me God' rule.
This resulted in a round of laughter from those present at the court. She immediately returned to the microphone and did as she was ordered.
The new appeal court judges were sworn in at the main court of the Supreme Court of Nigeria in Abuja on Monday.
President Muhammadu Buhari approved the appointment of the judges following their recommendation by the National Judicial Council (NJC).
It will be recalled that the inauguration was supposed to have taken place on April 29 but was postponed due to a nationwide strike of the members of the Judiciary Staff Union of Nigeria (JUSUN) that grounded all activities in Nigerian courts for over two months.
The spokesman of the CJN, Ahuraka Isah, added that the postponement was to enable the new judges to "clear their desks in their various offices", to ensure that there are no outstanding issues before they assume their new responsibilities.
The full list of justices sworn-in as appeal court justices and their states are:
1. Mohammed Danjuma (Niger State),
2. Muhammad Sirajo (Plateau),
3. Abdul-Azeez Waziri (Adamawa),
4. Yusuf Bashir (Taraba),
5. Usman Musale (Yobe),
6. Ibrahim Jauro (Yobe),
7. Abba Mohammed (Kano State),
8. Bature Gafai (Katsina),
9. Danlami Senchi (Kebbi),
10. Mohammed Abubakar (Sokoto).
11. Hassan Sule (Zamfara),
12. Kenneth Amadi (Imo),
13. Peter Affen (Bayelsa),
14. Sybil Gbagi (Delta),
15. Olasunbo Goodluck (Lagos),
16. Adebukola Banjoko (Ogun),
17. Olabode Adegbehingbe (Ondo), and
18. Bola Ademola (Ondo).