Biafra/Oduduwa Republic: Sultan Reveals Those Tearing Nigeria Apart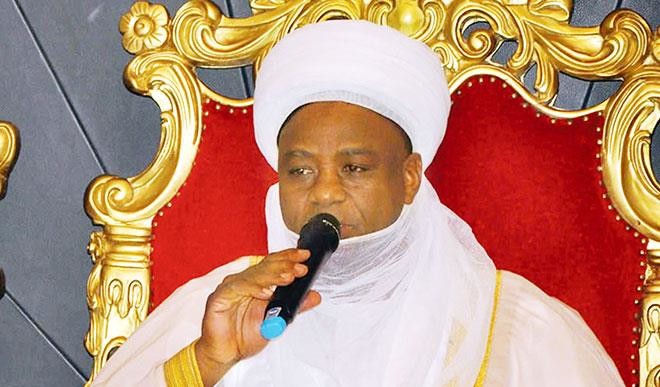 The Sultan of Sokoto, Muhammad Sa'ad Abubakar III, has accused tribal politicians of attempting to tear the fabric of the nation apart under different guises.
He stated this at a one-day retreat organised by the Northern Caucus of the House of Representatives on Monday in Suleja, Niger State.
The Sultan, who was represented by Danmadamin Sokoto, Faruk Ahmed, urged Nigerians not to allow "divisive schemes" to pitch one ethnic group against another and cause division in the country.
He, however, noted that Nigerians have equal rights to live and carry out legitimate businesses anywhere in the country.
He said: "Today, tribal politicians are bent on tearing the fabric of our nation apart under different guises. As patriotic and peace-loving Nigerians, we should not fold our arms and watch them destroy our unity.
"I, therefore, urge you, as grassroots politicians to continue to support government efforts in restoring peace and stability across the country as no nation can prosper under chaos.
"All Nigerians must enjoy equal freedom and equal rights to live peacefully and pursue their legitimate businesses in any part of the country they so choose, be it in the market or in the forest.
"We must reject all ill-conceived schemes that are divisive — schemes that are setting Nigerians against fellow Nigerians. We must abhor laws that are capable of causing inter-tribal or inter-regional disharmony. All men are created equal and the unity of Nigeria is sacrosanct."
Speaking on the Petroleum Industry Bill (PIB), the Sultan said the legislation, when passed into law, will attract more investors into the country.
He said: "We should have a PlB that will encourage massive hydrocarbon exploration in those frontier basins; a PlB that will attract foreign investors to bring their funds and develop the resources; a PlB that will guarantee optimum value to Nigerian people and investors, and a PIB that will strengthen Nigerian economy and boost our sense of unity as citizens of one nation.
"The passage of the PIB will enable Nigeria to commercialise these huge hydrocarbon reserves, to get more funds to develop other sectors of the economy such as education, health, agriculture, solid minerals, technology and innovation, manufacturing and infrastructure before the end of the oil economy."
Source: Naija News