Car Seller Crashes Customer's Ferrari Moments After Paying
A Ferrari which was on its way to being delivered has ended up getting into an accident when the seller was driving it in Abuja.
According to social media user, Ako Jiusman via his Twitter account, the car seller crashed a customer's Ferrari in Abuja moments after paying.
Sharing the photos of the wrecked car, Social Media user @akojiusman captioned it; "Them don scatter one Ferrari for my backyard! Bloody hell!!! Looks like a 458".
Another social media user, who claimed to be friends with the man who was supposed to buy the car, wrote; "My boy was about to buy a Ferrari, then the seller crashed it. No lives was lost by the way."
See photo below;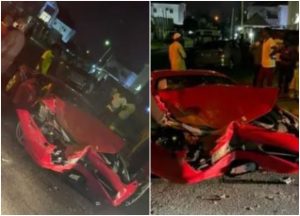 Meanwhile, Operatives of the Nigerian Police on Friday raided camps of suspected members of the Eastern Security Network (ESN), the militia wing of the Indigenous Peoples of Biafra (IPOB) group.
It was gathered that many ESN members were killed in the raid that took place at Atta, Izombe and Ideato North areas of the state.
According to The Nations, the raids which commenced around 4 am was carried out by operatives of the Intelligence Response Team (IRT), Special Tactical Squad (STS), Anti-Kidnapping Unit (AKU) and other special forces.
The combined security team completely overran three camps allegedly belonging to IPOB/ESN.
Sources revealed that a commander of the group who was earlier arrested led the operatives to the camps where several weapons, stolen vehicles, explosives, gun powders, charms, weed, ammunition, hard drugs and the group's flags were recovered.
Although the number of suspects killed was not specified, a source privy to the operation said many of them were neutralised inside the forest during gun battles.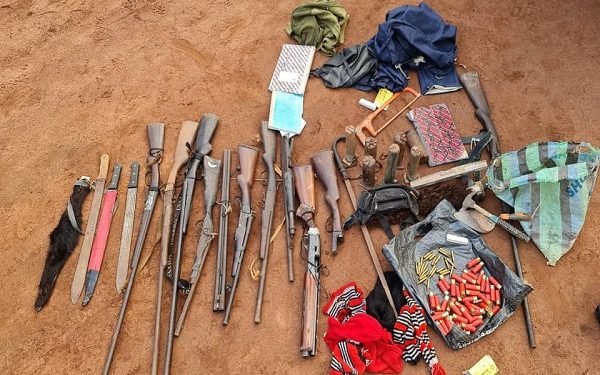 He said six of the suspects were apprehended and were currently aiding police investigation.