Twitter Is The Platform For Separatists – Lai Mohammed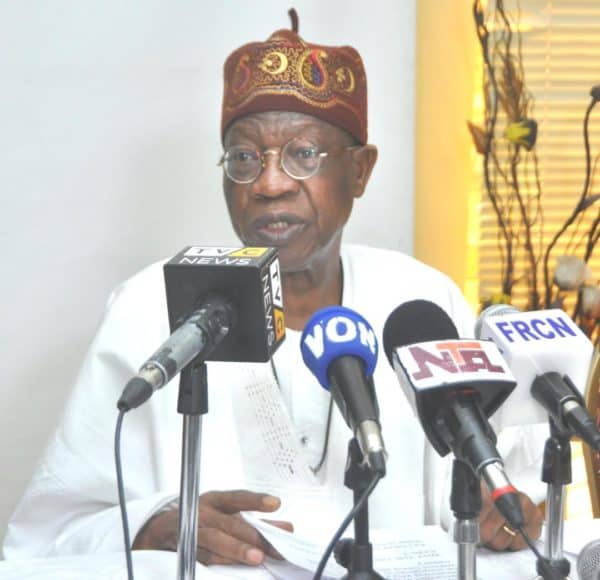 The Minister of Information and Culture, Lai Mohammed, says micro-blogging site, Twitter is the platform of choice for separatist campaigners.
Mohammed stated this while delivering a keynote address in Lagos on Thursday, at a meeting of the All Progressives Congress (APC) information managers at federal and state levels.
Mohammed reiterated that the federal government suspended the operations of Twitter because of the threat posed by the gross abuse of the platform to the nation's peace and unity.
According to the minister, it was a tough decision to ban Twitter's operation in the country, considering that many youths also use the platform for business.
Mohammed described social media as a double-edged sword, that provides opportunities and challenges in equal measure.
He said: "Twitter is the platform of choice for separatist campaigners, especially those of them residing outside the country.
"They use it to issue directives to their followers in Nigeria to attack our security forces, as well as to burn police stations and INEC offices.
"It was a tough decision to take, considering that many of our youths also use the platform for business. Such is the challenge posed by social media."
He also identified poor funding, due to dwindling resources available to the government, as part of the challenges facing the information and communication sector.
Mohammed said in spite of the challenges, his ministry had deployed several innovations — traditional and modern methods — to project the achievements of the administration in the three priority areas of fighting corruption, tackling insecurity and revamping the economy.
The innovations, according to him, included town hall meetings, testimony series, documentaries, bi-weekly news briefing, releases, and media tour of projects.
The minister, however, lamented that in spite of the various programmes, people were still complaining in certain circles, that not enough is being done to publicise the administration's achievements.
He, therefore, called for sustainability and the need for synergy among managers of information and communication in all strata of government.
As a way forward, the minister said the information and communication managers of the party, and governments at all levels should create enough synergy to enable them to work together.