Drama As Rain Disrupts Nigeria Senate Plenary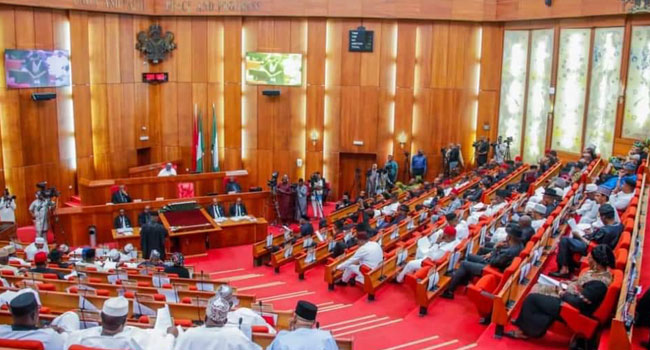 Activities at the Senate hallowed Chamber was on Tuesday morning disrupted following the heavy leaking of the roof.
Naija News reports that rain fell in the early hours of Tuesday morning rain in the nation's capital, Abuja.
Following the leaking of the roof, Senators who were already at the chamber were forced to come outside, discussing in groups.
National Assembly staff have in the last couple of minutes packing the water with buckets and Packers, just as the entire environment, fora is covered with water, Vanguard reports.
Some Senators who came later while the place was filled with water, had to go through the House of Representatives.
Recall the National Assembly had earmarked N37billion in the 2021 budget for repair of the complex.
The huge figure generated uproar and condemnation from Nigerians who contended that the amount was too huge.
Meanwhile, Senate President Ahmad Lawan has revealed that President Muhammadu Buhari-led administration failed during its first tenure as a result of the face-off between the Executive and the National Assembly.
According to the lawmaker, the All Progressives Congress (APC) government could not deliver their electoral promises to the electorates during the first tenure as there was no cordial relationship between the bodies.
Naija News understands that Lawan stated this while speaking at the First Progressives Youth Conference 2021, on Monday night in Abuja.
He said, "When we were voted in 2019 as leaders of the National Assembly, we were conscious of one thing, that the mandate that was given to us by Nigerians in 2015 had suffered disruption and dislocation.
"For four years (2015 to 2019), our government could not perform optimally because of the then crisis between the parliament – the National Assembly – and the Executive arm of government.
"So, APC had already lost four very important years. And, that was supposed to be the year that we should have convinced Nigerians that they took the right decision by voting out a PDP administration in 2015."