PDP's Abaribe Endorses YPP's Moghalu 2023 Presidential Ambition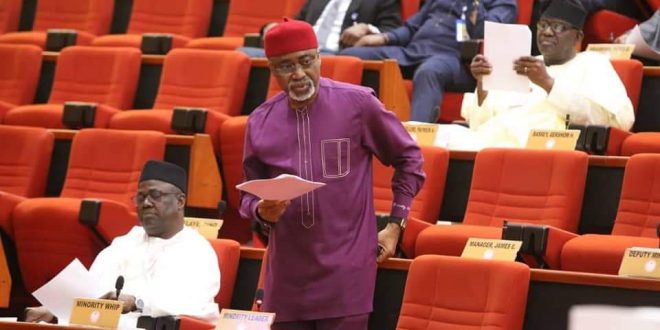 A former CBN Deputy Governor, Prof. Kingsley Moghalu, has claimed that  Senate Minority Leader, Eyinnaya Abaribe has endorsed his presidential ambition.
Moghalu, a former presidential candidate of the Young Progressive Party (YPP), disclosed this in a series of tweets on Monday.
The former CBN boss stated that Abaribe endorsed and supported his presidential ambition during a function of Igbo socio-cultural organization.
Moghalu said: "Senator Enyinnaya Abaribe has just announced his complete support and endorsement for me to become President of Nigeria in 2023, at the inauguration of Igbonine sociocultural organization happening live now in Enugu. Thank you, my Distinguished brother, Enyi!
"I'm not waiting for Nigeria or its "system" to become perfect before I offer myself for service as its President.
"That's not leadership, it would be cowardice! Leaders MOVE and take on challenges! No restructuring yet? No problem. We will get it done where others did not."
Recall that Moghalu had said that Nigeria's state of insecurity is not a sufficient reason to stop the 2023 general elections from holding.
Speaking at a press conference, the former presidential candidate said he supported President Muhammadu Buhari's insistence to hold the 2023 regardless of the troubling coordinated attacks on INEC facilities and other parts of the nation.
"I think we have to understand that we have a commitment to democracy, even America, during war held elections. I will not encourage the kind of thinking that allows us to seek refuge in excuses to truncate democracy all because there is a lot of insecurity in the country.
"Even the president, Buhari himself, has said, in his recent remark, that was the more controversial comment, that elections must hold in 2023 and I believe that it is a good position, and I think that is the position we should all take," Moghalu said.