There Will Be Nothing Left In Nigeria If … – Bishop Oyedepo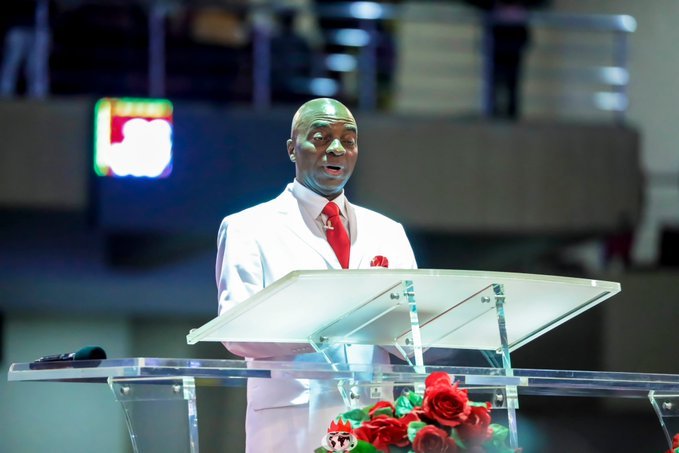 The founder and presiding bishop of the Living Faith Church also known as Winners Chapel, Bishop David Oyedepo has submitted that only church investments in Nigeria's economy are surviving.
The fiery preacher while speaking to his congregation on Sunday noted that it is only investments and organizations established by the church that are doing well without any wrongful addition.
He added that some other investments might be manipulated to look like they are flourishing but when critically examined, the case would be seen to be false.
In his words, "remove the products of revival from Nigeria economy…, there is nothing remaining."
Let me say this and I am saying this very boldly: The only thing remaining in Nigeria today are the investments of God's people. The only one!
You know the other people are busy killing themselves. No plan, no purpose, no forward looking.
Check all the employment of labour today in this country, authentic, not manipulated stuff. They are believers.
Those are products of a revival. Unleashing financial fortune to advance His Kingdom. That is why your Church will be building rural Churches and at the same time building the Ark and building every other thing that is coming around."
Oyedepo however noted that it wasn't always good for the church in the past but when people sought God's face and He released his blessings, then things changed for the better.
He said: "You know where the Church was in Nigeria, in the 70s, in the early 80s. It was a pitiable assembly of people."
"That painful proverb, "as poor as Church rat", was a true description of the Church. You could have a Church building going on for 20 years. I saw one in my place. 20 years without completion."
"All the powerful ministries were renting shops and sheds, in fact they called us mushroom Churches. You know mushroom grows today and disappears tomorrow. But when that move came and people's hearts began to pant after God, the story of men began to change."
Meanwhile, the committee of FCT imams initiative (CFII) has asked the Muhammadu Buhari-led government to pay religious leaders to help fight insecurity in the country.
Speaking at the 17th extraordinary dawrah (conference) of the FCT Imams on Saturday, chairman of CFII, Tajudeen Adigun, said Imams and other religious leaders should be included in the fight against insecurity.