Father's Day Turns Dirty For Mercy Aigbe, Estranged Husband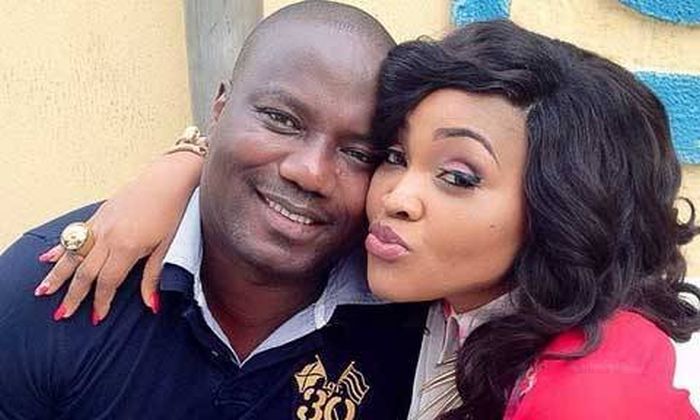 Fathers across the world were celebrated today, but the day took another turn for Nollywood actress, Mercy Aigbe and her estranged husband, Lanre Gentry.
The actress over the years has always praised herself on Father's Day for playing both the role of a father and mother.
She took to her verified Instagram account to and wrote, "Happy Father's Day to me and all the responsible fathers out there! 2 kids (1 international student) … changing naira to dollars with this dollar rate! Abeg it's not easy! But God has been gracious!
"Please no one should come tell me how I shouldn't take the shine off fathers oh! (fatherhood is beyond impregnating a woman, if you are a man and do not perform your responsibilities towards your kids, biko you ain't fit to be called a father and that's on periodt!!!)
"So, since I am playing dual role in my children's lives, allow me celebrate myself every day! Cos it's not easy! May the Lord grant us long lives in good health to enjoy the fruit of our labour."(sic)
The actress's post, however, did not sit down well with her estranged husband, Gentry, who fired back soon after.
Gentry in a post on Instagram said a father's role in the life of a child cannot be underestimated.
He said, "Happy Father's Day to me and all the fathers in the world. May God be with all in the name of our Lord Jesus Christ, Amen. Some women over there will say happy Father's Day to themselves when they are not good to be a mother or house wife to their children. But fathers always make them happy when they are in the house.
"But you cannot blame them, they have no good background; they don't have their parents together, that is why they don't know what Father's Day is.
"I thank God for my parents; thank you to my father and mother for staying together. Happy Father's Day to you once more. I am a father to all my children. I pray for all fathers in the name of our Lord Jesus Christ, amen."
Aigbe in her reaction wrote, "Mr Lanre Gentry, you better stop with the stupid lies! You better don't just infuriate me! Gentry call your useless father to order oh cos, really, I have had enough of his nonsense!!!!!
"And the most irresponsible father award goes to my Ex! This shameless man who, instead of him to cover his face in shame, will rather come online to post rubbish! I normally ignore you when you respond to my Father's Day post! But you see this one! Bring it on!!!! I am READY!!!!!!! Alailojuti."