Biafra: Nnamdi Kanu Attacks Reuben Abati For Defending Buhari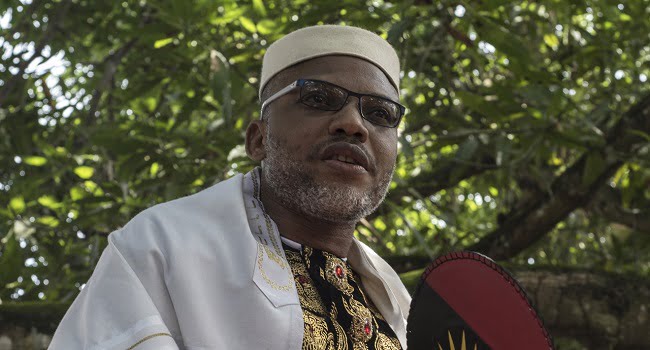 The Leader of the Indigenous People of Biafra (IPOB), Nnamdi Kanu, has challenged former presidential media aide and television anchor, Reuben Abati to tell Nigerians which 'Buhari' he interviewed.
Abati made headlines after debunking rumours spread by Kanu and his group, IPOB that President Muhammadu Buhari was a 'clone'.
According to the former presidential aide, President Buhari was healthy, very cognitive, and was truly himself.
Reacting to the comment via his Twitter handle on Friday, Kanu knocked Abati for lying to Nigerians concerning the President's health.
He wrote: "Dear @abati1990, Could you kindly tell the world, from the collection below, which version of the late
@MBuhari you interviewed. The man you interviewed, did he speak #Fulfude? Did you ask him about the hole in his neck or his Kpomo ear?
"Eyes are useless when the mind is blind.
"As part of our 'The Real @MBuhari is Dead' enlightenment series, let me ask the likes of
@abati1990 to take cognisance of this image because this is the proper face of the old Buhari looking his real age before his death in January of 2017. Compare this photo with the following…"