Slices Of Yam Sold In Nigerian Market As Food Prices Increase – [Photo]
The unimaginable is already happening in the Nigerian market amid complaint of rising food prices by citizens, Naija News reports.
A Nigerian entrepreneur identified on social media as @a_vanita shared on her page a photo showing slices of yam allegedly being sold to customers who could not afford to buy a tube or tubers of yam.
Sharing her unthinkable discovery, Vams wrote: "Can you guys see Nigeria? Someone is selling slices of yam in the markert (4 slices for 200 naira) so people that don't have enough money can be able to afford this to eat.
"Is this your country?" she asked.
See her post below: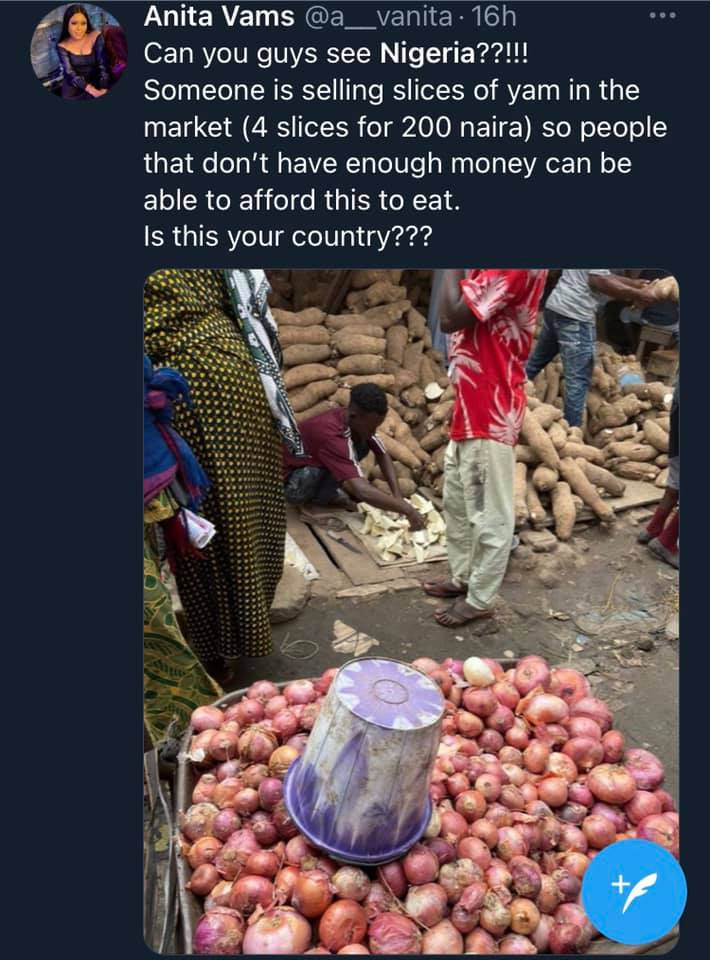 Meanwhile, the World Bank has said rising food prices had thrown seven million people into poverty.
The revelation is coming three days after President Muhammadu Buhari announced that his government had lifted 10 million people out of poverty, Naija News understsands.
The National Bureau of Statistics (NBS) had said earlier that inflation has fallen by 0.19 per cent in May this year, as Nigerians continue to complain about rising food prices such as food. and medicines and other consumer goods.
Experts say the World Bank figures are not surprising, given that even the National Bureau of Statistics (NBS) has reported inflation in recent months as a result of rising consumer prices.
In a statement issued on Tuesday in Abuja, the World Bank said: "Food prices accounted for over 60% of the total increase in inflation. Rising prices have pushed an estimated 7 million Nigerians below the poverty line in 2020 alone."