Igbo Leaders Against Biafra But Angry With Buhari Govt – Ohanaeze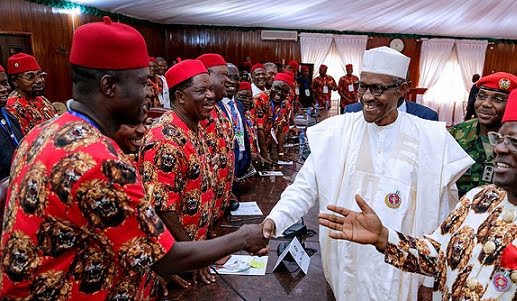 The apex Igbo socio-cultural group, Ohanaeze Ndigbo Worldwide has distanced themselves from various groups agitating for the emergence of Biafra Republic.
Naija News reports that calls for Biafra republic are being amplified by the proscribed Indigenous People of Biafra (IPOB) and the Movement for the Actualisation of the Sovereign State of Biafra (MASSOB).
In a statement issued by its Secretary-General, Okechukwu Isiguzoro, the group said it is only dissatisfied with the negligence of the Nigerian government.
According to Ohanaeze, silence of Igbo leaders does not mean support for IPOB and MASSOB.
It noted that the agitations were borne out of frustrations from the Muhammadu Buhari-led Government's discrimination against the people of the South-East.
The statement read, "Ohanaeze Ndigbo Worldwide had dismissed Northern Elders' contentions of possibilities that the silence of Igbo leaders in the ongoing provocative onslaught in Southeastern Nigeria, reflected support for IPOB and MASSOB, describing it as 'fallacies and myth' craftily designed for sinister motives by anti-Igbo exponents.
"Contrary to popular beliefs of Northerners on secessionist campaigns, the popularity of Biafra agitation by Igbo youths is based on the fallout of the systematic frustrations of the Federal Government's discrimination against Southeastern Nigeria.
"Unlike most Nigerian youths, Igbo youths are subjected to untold hardship, especially in this COVID-19 worsening economic era. In every 10 unemployed people, 6 are Igbo youths, traders amongst them are frustrated either by unfriendly government policies or host communities animosities.
"Igbo leaders are not happy with the 'I-don't-care attitude' of the Presidency, all the lamentations of South-East marginalisation appears to have fallen on deaf ears of the Presidency, as the Federal Government appears to be combat-ready in any slightest hint of conflict of interests in southeastern Nigeria but appears powerless to the full-scale insurgency in Northern Nigeria.
"These two postures of Federal Government, being brutal in the Southeast and sluggish in the North, the two-faced behaviours of Federal authorities are the reason for secessionist turmoils in Middle Belt, South-East and South-West regions.
"Igbo leaders and governors are not behind IPOB and are unhappy with the attacks on police formations and government facilities, but the happenings in southeastern Nigeria appear to be 'the hands of Esau and the voice of Jacob', it's sponsored solely to blackmail the South-East Presidency and portray that Igbos should not be trusted with political power in 2023.
"Unfortunately for them, all anti-Igbo exponents are (unknowingly) playing a historical role in the fulfilment of Nigerian President of Igbo Extraction 2023."