Major Key Points From Buhari's Interview With NTA On Friday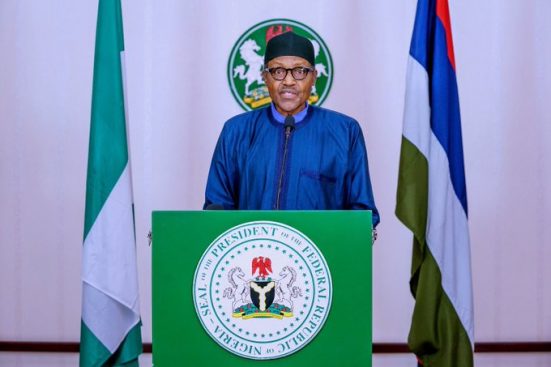 President Muhammadu Buhari on Friday, June 11 granted an exclusive interview to the Nigerian Television Authority, Naija News reports.
The President during the interview, responded to questions regarding issues facing the country under his administration which includes insecurity, setback on the nation's economy, corruption fight and lots more.
Naija News understands that the All Progressive Congress, APC administration has been under great critics by citizens over its inability to curb incessant killings, kidnapping and destruction of properties by various criminal groups across the states. A development that contributed to birthing the call for disintegration by different regions.
Special Adviser to President Muhammadu Buhari on Media and Publicity, Mr Femi Adesina, has said earlier that the interview session with the president on Friday would be revealing.
He said: "President Muhammadu Buhari grants Nigerian Television Authority (NTA) an exclusive interview, from 8.30 pm, Friday, June 11, 2021.
"It promises to be revealing and educating. Kindly keep a date," the presidential aide added. In this regard, Naija News has drawn out some major key points from the President's address to Nigerians a few hours ago.
Achievement:
Addressing critics by Nigerians on poor record in the anti-graft-fight under his government, Buhari said that "Nigerians are very forgetful" of the "achievements" of his administration in the last six years.
He said "Nigerians, I think, are very forgetful. I am very pleased that the majority of Nigerians think that this administration, under the circumstance, are (sic) doing their (sic) best but people who misappropriated funds are elected members either at the state or federal level.
"You can accuse them or try to prove that when they were elected members of the House of Reps and they are given ministries and so on, they had only one house and maybe a wife but now they have several houses may be in Abuja, maybe in Lagos, so, rarely, if you try to work out their legitimacy limit, viz-a-viz their expenditure, they will be exposed."
The president added that there is a need for the establishment of specialised courts in the country to take over the trial of corrupt politicians.
When asked how he would describe the country today, Buhari insists that his administration has not performed badly.
He said, "Well, I want Nigerians to be fair to this administration. They should reflect seriously on the time we came in especially as far as the North East and the South-South is concerned.
"Where we are now, resources, how much we are producing. The previous administration before me was producing 2.1 million per day at 100 American dollars per barrel.
"When we came in, militants in the South-South were unleashed on this administration and production went down to half a million barrels per day and then in the market, oil price collapsed.
"I will like Nigerians to reflect on these in terms of resources in time and I believe that we have not done very badly."
Fight Against Insurgency:
Addressing the issue of insurgency ravaging the country, President Muhammadu Buhari vowed that his administration will deal with those sponsoring terrorism in Nigeria. The President alleged that those sponsoring terrorism in Nigeria are people who have been made irrelevant and are only trying to register their presence through violence.
Buhari said, "Their motive is that, since they have been made irrelevant, they want to use the resources they have accumulated over the years to prove that they are still around.
"The administration will deal with them, anybody caught will be dealt with."
Job Creation/Provision For The Youths:
Naija News reports that President Buhari in his address stated that the Federal Government has no reserved job openings for the youths. The president accused the youths of promoting insecurity in the country, noting that there will be no jobs from foreign investment if the nation is not secured.
Recalling the events that happened during the nationwide protest against police brutality months ago, Buhari said the #ENDSARS protest offered opportunities to hoodlums to destroy government properties, painting the nation bad to distract foreign investment.
The President said he had told Governor Babajide Sanwo-Olu of Lagos State to tell residents in his state to walk after buses were burnt during the #EndSARS protest. Naija News recalls that during the October 2020 #EndSARS protest, hoodlums took advantage of the demonstrations to burn down vehicles and buildings across the country, including several vehicles under the Bus Rapid Transport (BRT) scheme.
Following the incident, Sanwo-Olu had visited Buhari at the presidential villa, carrying alongside with him photos of the destruction recorded during the protests.
But speaking in an interview on NTA on Friday, Buhari said he told the governor to tell Lagosians to walk because the federal government didn't have the funds to replace the burnt buses.
He said: "Look at the #EndSARS incident in Lagos. The previous governor of Lagos state bought 200 buses to complement the transportation in Lagos. And he built a complex. But they went and burnt them."
"The present governor made an album and came to see me. I said 'Thank you very much'. I took the album, put it in my archives and I told him to tell the Lagosians to walk, because we don't have the money.
"After an administration bought over 200 buses, for some people to come and burn it? So, let them walk."
Restructuring:
Naija News reports that there has been a call for restructuring by concerned Nigerians in recent time. A former presidential aspirant and ex-Governor of Anambra State, Mr Peter Obi has said earlier that restructuring will boost the nation's economy and end insecurity.
The Peoples Democratic Party (PDP) chieftain also denied claims that restructuring is not a move to divide the country amidst the calls for secession. Naija News understands that the politician made this known at the fourth Adada Public Lecture organised by the Association of Nsukka Professors (ANP) at the University of Nigeria, Nsukka (UNN) in May 2021.
Obi noted that with restructuring, governors would look inward to make their states productive, while state, local and community police would be set up to tackle criminality within their areas.
However, President Buhari on Friday, declared that he is a strong believer in the need to restructure Nigeria but his hands are tied.
This is as he submitted that the issue of restructuring is a constitutional matter that should be dealt with by the National Assembly.
Naija News understands that the President was quoted by his special adviser on media and publicity, Femi Adesina to have made the submission on Friday when he played host to members of the Nigerian Inter-Religious Council (NIREC) led by Co-Chairmen, Sultan of Sokoto, His Eminence, Alhaji Muhammad Sa'ad Abubakar and President of Christian Association of Nigeria (CAN), His Eminence, Rev. Dr. Samson Supo Ayokunle, at the State House in Abuja.
Buhari stated that though the issue of restructuring, true federalism, or devolution of powers remains a contentious one, he is glad the national assembly has started a constitutional review process.
He, therefore, expressed optimism that the various agitations will be attended to. At the meeting, the President said, "On the contentious issue of restructuring or true federalism or devolution of powers, like you all know, this is a constitutional matter with which only the National Assembly can deal.
"I remain an unapologetic believer in devolving power to the people and that is why I signed the Executive Order granting autonomy to State Legislature and Judiciary. Unfortunately, this was met with some resistance at the state level and led to a more than two months strike action that has cost the country a lot of pain.
"Luckily the National Assembly has nearly completed the constitutional review process, which I hope would address some of the burning issues agitating the minds of our people.''
Adesina, in the statement, said, "President Buhari assured that efforts were already on to create a more conducive environment to address both direct and indirect causes of challenges including areas of job creation and employment generation while appreciating religious leaders for their significant roles in national development, particularly in shaping perspectives."