Journalists Bounced As Obasanjo Intervenes To Stop Clash At State-Of-Nation Parley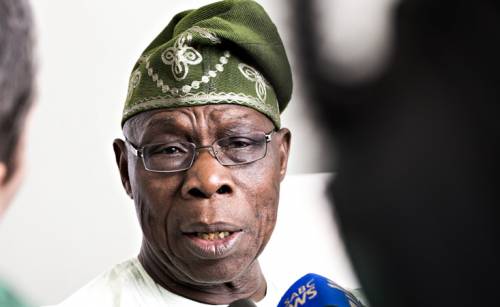 Newsmen from across the nation were on Thursday prevented from covering the high-profile meeting on the "state of the nation" convened by former President Olusegun Obasanjo.
The meeting which was originally meant to be held in secret was revealed by Naija News on Wednesday.
Details of the meeting were leaked in a letter forwarded to the President of the Nigeria Labour Congress, Ayuba Wabba.
The letter disclosed that the aim of the meeting is to discuss issues such as national unity, security, peace, integration, economic revitalisation, and development.
The letter read in part, "I am pleased to invite you on behalf of Interfaith Initiatives for Peace jointly led by the Sultan of Sokoto, his eminence Mohammad Sa'ad Abubakar and his eminence John Cardinal Onaiyekan, national peace committee chaired by General Abdulsalami Abubakar and Socio-cultural Consultative Committee convened by me and all these bodies called Committee of Goodness of Nigeria, CJN, to an exploratory meeting on pressing issues of national unity, security, peace, integration, economic revitalisation and development, women and youth welfare and general progress."
It was gathered that the nine-hour marathon meeting held at the Transcorp Hilton Hotel, Abuja started 11.00 am and ended 8.15 pm with two breaks for prayers and meals.
Those at the meeting include a former Head of State, Gen. Abdulsalami Abubakar (retd); Sultan of Sokoto, Alhaji Muhammadu Sa'ad Abubakar III, and Emeritus Catholic Archbishop of Abuja, John Cardinal Onaiyekan; President of the Christian Association of Nigeria (CAN) Dr. Samson Ayokunle; a former National Security Adviser (NSA), Gen. Aliyu Gusau (retd) and a former Attorney General of the Federal (AGF), Kanu Agabi (SAN) among others.
Journalists who waited to cover the crucial meeting were denied access by security agencies who claimed that newsmen were not invited to cover the meeting when the personalities were arriving in the morning.
They were also not allowed in during the breaks that even led to the 'eviction' of some aides of the personalities and some others before the meeting went to another 'closed-door' meeting with selected leaders of the various groups invited for the meeting.
At the end of the meeting, none of the leaders or other attendees were willing to talk, despite the persistence of the reporters.
However, a former minister of agriculture, Audu Ogbe, who said a communique would be released.
It was gathered by Daily Trust that representatives from the meeting would later meet with President Muhammadu Buhari on Friday.
A source at the parley revealed that the meeting was stormy and that it took the intervention of Obasanjo who presided over the meeting to calm frayed nerves which occurred more than six times during the meeting.