Twitter: Atiku Abubakar, Family Obey Buhari Govt's Illegal Ban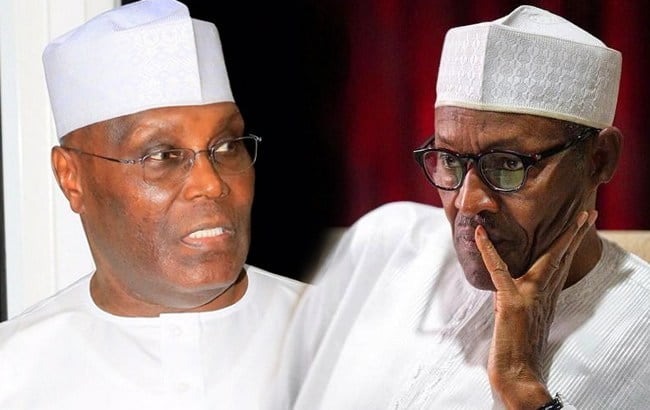 Former vice-President Atiku Abubakar and his family seem to have complied with the Muhammadu Buhari-led administration ban of Twitter operations in Nigeria.
Findings show that the former VP has been quiet since he tweeted "Hopefully, this isn't my last tweet #smile," shortly after the suspension was announced on Friday.
Some of Atiku's children have also 'disappeared' from the micro-blogging and social media platform since the ban took effect.
Naija News observed that Aliyu Abubakar, the son of Atiku's third wife, Princess Rukaiyatu Abubakar, have stopped tweeting since Friday.
Also, Mustapha Abubakar, an educational administrator was observed to have stopped posting after retweeting a journalist's tweet criticizing Buhari's move to ban Twitter.
Similarly, the Honourable Commissioner for Adamawa State Ministry of Works and Energy Development, Adamu Abubakar, last tweeted on Sunday, after celebrating his mother, Amina Titi Abubakar's birthday.
Mohammed Abubakar, another son of the former VP, has not been active since he retweeted Governor of Oyo, Seyi Makinde's appeal to the federal government to reverse the suspension on Saturday.
Recall that Nigeria's Minister of Information, Lai Mohammed, had announced an indefinite suspension of Twitter operations in Nigeria on Friday.
The federal government had accused the social media site of engaging in activities that would undermine the nation's existence.
In a bid to enforce the ban on Twitter, Nigeria's Attorney General Abubakar Malami threatened to arrest and prosecute anyone who tweets in Nigeria, as many use VPN to bypass the blockage.
But Naija News reports that RCCG's Pastor Enoch Adeboye had justified his insistence on using the platform with Article 19 of the UN Universal Declaration of Human Rights (UDHR).
Article 19 of the UDHR states that "Everyone has the right to freedom of opinion and expression; this right includes freedom to hold opinions without interference and to seek, receive and impart information and ideas through any media and regardless of frontiers."
Aside from Adeboye, the founder of Deeper Life Church, W.F. Kumuyi had also insisted that his church would not respect the federal government's ban on Twitter because its Twitter handle reaches a global audience.
Also, Makinde and Nasir El-Rufai of Kaduna are among other prominent Nigerians who have published statements on Twitter despite the ban.