Ozekhome Hits FG Over Prosecution Of Twitter Ban Violators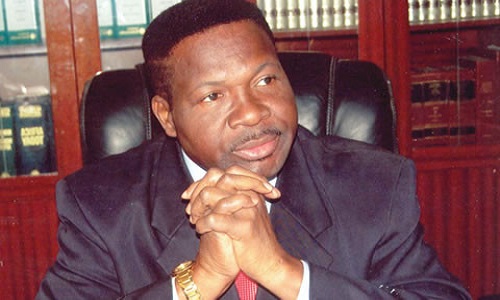 Popular Nigerian lawyer, Mike Ozekhome (SAN) has condemned the decision of the federal government to prosecute persons who violate the ban on the use of Twitter.
Naija News had reported that the government had suspended the operations of the micro-blogging site after it pulled down a tweet of President Muhammadu Buhari.
However, many Nigerians have been able to access Twitter by using the Virtual Personal Network (VPN).
Immediately, the Attorney-General of the Federation (AGF), Abubakar Malami, ordered the prosecution of anyone violating the ban on Twitter.
However, in a statement on Sunday, Ozekhome said the federal government should be ready to imprison many Nigerians.
The Senior Advocate of Nigeria added that using Twitter isn't a crime and the decision of the government was a knee-jerk reaction.
He said: "How I wish that Malami's APC Government has displayed such alacrity and sense of urgency on the grave insecurity challenges of the country; the parlous economy and the mounting corruption ravaging our land.
"Malami did this with Lai Mohammed apparently being aware that many knowledgeable Nigerians had started to use different Virtual Private Networks (VPN) to clearly bypass the blockage. This government must be ready to build thousands of prisons across all the nooks and crannies of Nigeria so as to accommodate the deluge of 'erring' Nigerians.
"This government does not appear to have weighed carefully the serious implications of its actions and the likely ricocheting effects. Many Nigerians run global businesses with links and business partners across the world. They carry on business using the social media of Twitter.
"Secondly, many Nigerians, especially the jobless youth who have been rendered destitute by this thus anti-masses government. They rely heavily on legitimate income realised from the platform through advertisement of their products and services and act on behalf of their not so ICT-compliant clients who desire to reach out to the world.
"Banning Twitter is akin to what this government did in a knee-jerk action on coming to power whether thoughtlessly banned Nigerians from operating their domiciliary foreign accounts. The naira has never recovered from this shock treatment.
"Perhaps, more important is that the ban outrightly denies citizens of their individual and collective right to freedom of speech and right to freedom of expression and the press, contrary to section 39 of the Constitution. The cumulative effect of this negative act is a serious blight on Nigeria's image both at home and abroad."