One Killed As Hoodlums Attack Residents, Traders In Lagos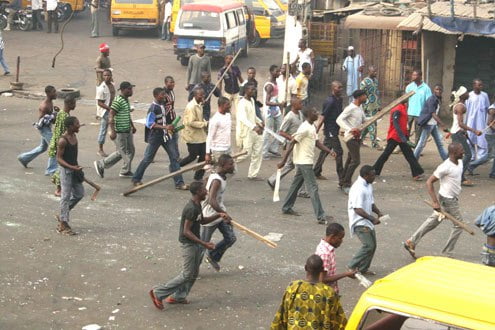 One person has been killed as hoodlums stormed the Isolo area of Lagos and attacked residents and traders with arms and ammunition, on Monday night.
A trader, identified as Emeka, said that business in the area had become unsafe for two days now due to nefarious activities of hoodlums who robbed individuals of private belongings.
He added that the activities of the hoodlums were an offshoot of last weekend's All Progressives Congress (APC) local council primaries in the area.
Also speaking, a school administrator in one of the affected schools said hoodlums had made the environment tense for students and residents in the area.
"We have been living in fear since Saturday. Hoodlums fight every day and we cannot even run the school smoothly. We all live in fear here, even the students are not safe to be in school for a long time because anything can happen," he told The Guardian.
While giving an account of what happened, a trader in the area, who gave her name simply as Sikirat, said that about 8.00p.m. a man in his 20s was killed by hoodlums who attacked a rival group.
She said the victim was asked not to go out but sneaked out of the house before a stray bullet hit him.
"I really do not know what started the fight, but what I know is that the moment the fight broke out, everyone scampered to safety while the deceased was asked to stay indoors. We did not really know how he got out and died. Until his death, he was a decent gentle boy," she said.