Four Killed As Police Clash With IPOB Members In Ebonyi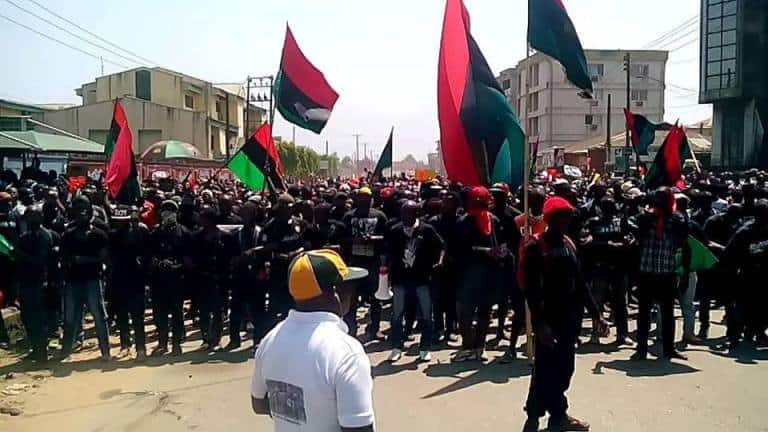 Four people are feared killed and several others injured in a shooting between members of Indigenous Peoples of Biafra (IPOB) and Police in Ebonyi State.
The shooting occurred in Nnodo in Ebonyi Local Government Area of the state where police encountered IPOB members enforcing the group's sit-at-home order.
It was learned that a police officer and three IPOB members are among those killed.
Speaking to Daily Trust, a reliable source said that motorbikes and cars were set ablaze during the attack.
"And in order to stop them, the police was mobilized to the area leading to shooting during which deaths were recorded," he explained.
As of the time of filing of this report, the police are yet to put out any official statement on the incident.
Meanwhile, there is total compliance to the directive of Indigenous People of Biafra (IPOB) for people of South East to sit at home to respect those killed in the Nigerian civil war in Anambra state.
Businesses have been shut down, and residents shut inside their homes, while empty streets have been converted to football pitches as residents stay indoors
The ever-busy Unizik junction along Onitsha – expressway and the popular Eke Awka and markets in the capital were shut down.
Many streets in Awka are converted to football pitches by the youths, while some people were seen in places celebrating the total compliance of the directive.
One of the youths in the Awka Chinenye Okafor said he was pleased that the directive to sit at home was successful.
Another resident, Taiwo Ogundare who wanted to trek to Aroma from Unizik junction commended the Igbo for observing the sit-at-home directive.
He said that the compliance was to respect the heroes from Igbo extraction that lost their lives during the civil war.
Ogundare said the action was right and apt, noting that the sit-at-home order did not translate to anything wrong .
Reports from Onitsha and Nnewi indicated that the sit-at-home order was successful as all shops and offices were shut.