Rotimi Amechi Turns 'Singer' Releases Song To Mark Birthday |Video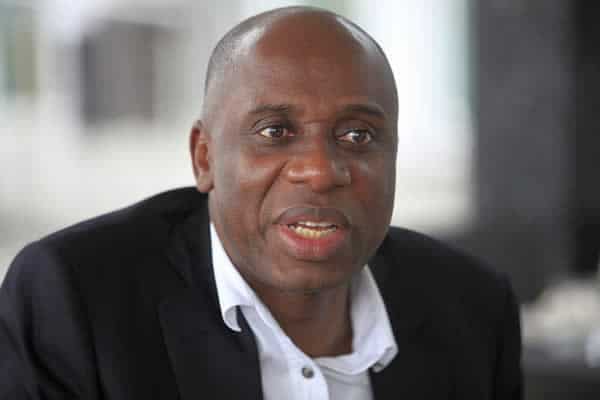 Minister of Transportation and former governor of Rivers State, Rotimi Amaechi, is celebrating his birthday today.
The Nigerian politician has decided to mark his birthday uniquely as he turns musician releasing a gospel song to mark his 56th birthday.
The former governor of Rivers State titled the song 'Psalm 33' with the catchphrase "Blessed the people the Lord has chosen as his heritage."
The minister featured his family members in the song packaged by Obiblo Music.
Mr Amaechi is one of several ministers retained by President Muhammadu Buhari after he won re-election in 2019.
Watch the video below;
Meanwhile, the Minister of Transportation, Rotimi Amaechi  recently survived an injury which required him  to walk with the aid of crutches.
His recent pictures shared some couple of months ago,  he was seen walking with crutches during the commissioning of an orphanage home and Arabic School in Kaita Local Government Area of Katsina State.
Naija News understands the Minister has a hairline fracture though the circumstances that resulted in the broken leg. Medically, hairline fractures are often caused by overuse or repetitive actions when microscopic damage is done to the bone over time. Not allowing yourself enough time to heal between activities is often a factor in the probability of getting this injury.
However, a close associate of Amaechi and chieftain of the All Progressives Congress (APC), Eze Chukwuemeka Eze who confirmed the development, said it is not a case anyone should be worried about.
He claimed the Minister told him the injury was sustained on 31st December, 2020, adding that Amaechi's doctors have assured there is nothing serious and the matter is receiving due attention