Boko Haram: ISWAP Fighters 'Kill' Many Nigerian Soldiers In Yobe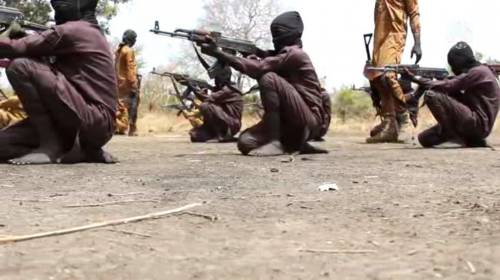 Gunmen suspected to be members of the Islamic State-backed faction of Boko Haram, the Islamic State West Africa Province (ISWAP), have allegedly killed many Nigerian soldiers in Yobe State.
A statement by ISWAP revealed that the soldiers were killed recently during an ambush on Nigerian troops in Yunusari Local Government Area of the state.
According to SaharaReporters, the insurgents also said two SUVs were captured from the soldiers.
Naija News had reported that the leader of the Boko Haram terrorist group, Abubakar Shekau was reportedly killed according to multiple sources.
Information gathered has it that Shekau died on the evening of Wednesday, 19th May 2021.
He was said to have died following the invasion of his Sambisa forest stronghold by fighters of ISWAP loyal to the Islamic State (ISIS).
ISWAP was a part of the Boko Haram group before it broke away in 2016 over ideological differences and pledged allegiance to ISIS – an international terrorist organization.
It was gathered that the ISWAP fighters stormed Shekau's stronghold on Wednesday with multiple gun trucks and overpowered the Boko Haram fighters including Shekau's bodyguards leading to the death of fighters on both sides.
After overpowering the Boko Haram fighters, Shekau was said to have surrendered and engaged in a long meeting with the ISWAP fighters.
He was given the option to voluntarily relinquish power and order his fighters in other areas to declare allegiance to ISWAP's authority.
However, Shekau according to sources had other ideas as instead of issuing a statement as expected, he blew up a secret suicide vest he had on him, killing himself and many others present during the negotiation.
In the past few months, soldiers have been targeted by the insurgents.
Scores of soldiers and officers have been reportedly killed since January 2021.