National Assembly Considers Bill To Scrap NYSC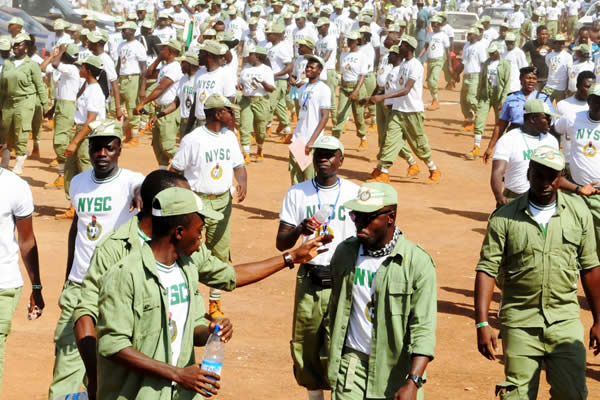 A Bill which proposes the scrapping of the National Youth Service Corps (NYSC) scheme has first reading in the House of Representatives.
The Bill titled Constitution of the Federal Republic of Nigeria Alteration Bill, 2020 is sponsored by Hon. Awaji-Inombek Dagomie Abiante, the Member Representing Andoni-Opobo/Nkoro Federal Constituency of Rivers State.
The lawmaker while justifying his reason for sponsoring the bill explained that current developments, devoid of sentiments do not support the continuation of the NYSC scheme.
He listed issues such as kidnappings, accidents, general insecurity and labour exploitation of corps members by employers as some of the reasons for his position.
He said in part: "This bill seeks to repeal Section 315(5)(a) of the Constitution of the Federal Republic of Nigeria, 1999, (as amended) on the following grounds:
"Incessant killing of innocent corps members in some parts of the country due to banditry, religious extremism and ethnic violence; incessant kidnapping of innocent corps members across the country;
"Public and private agencies/departments are no longer recruiting able and qualified Nigerian youths, thus relying heavily on the availability of corps members who are not being well remunerated and get discarded with impunity at the end of their service year without any hope of being gainfully employed;
"Due to insecurity across the country, the National Youth Service Corps management now gives considerations to posting corps members to their geopolitical zone, thus defeating one of the objectives of setting up the service corps, i.e. developing common ties among the Nigerian youths and promote national unity and integration."
Naija News reports that the NYSC scheme was established on May 22, 1973, under Decree No. 24 of 1973 by the military regime of General Yakubu Gowon as a way of promoting national unity and integration after Nigeria's civil war between July 6, 1967 and January 15, 1970.
Meanwhile, the Chairman of Nigeria Governors' Forum and Ekiti State Governor, Kayode Fayemi, has explained that he was absent from the meeting of leaders of the All Progressives Congress (APC) in the South-West region due to a mix-up.
The absence of Governor Fayemi and his Ondo State counterpart, Rotimi Akeredolu, raised eyebrows.
But reacting in a statement titled, 'Fayemi Endorses Outcome Of Southwest APC Leaders' Meeting… Says Mix Up In Invitation Responsible For His Absence', Fayemi through his Chief Press Secretary, Yinka Oyebode, backed the resolution of the leaders.