NLC vs Kaduna: El-Rufai Reveals APC Governor That Financed Protest [Leaked Audio]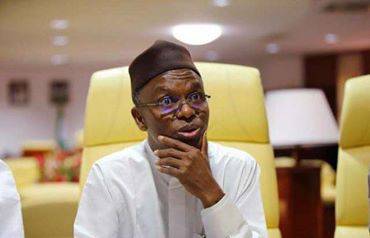 Governor Nasir El-Rufai of Kaduna State has accused Governor Abdullahi Ganduje of Kano of financing the three-day protest led by the Nigeria Labour Congress (NLC) in his state.
Recall that the NLC had declared a five day warning strike while calling on the Kaduna governor to reverse the sack of 4,000 workers.
When the now-suspended strike commenced on Monday, essential services such as electricity, banks and markets were shut.
El-Rufai, who insisted his government would not back down from its decision, declared the NLC President Ayuba Wabba wanted for economic sabotage.
The protest took an ugly dimension on Tuesday when thugs attacked and stoned protesters who converged at NEPA roundabout in Kaduna capital city.
Organized Labour however called off the strike after three days following the intervention of the federal government.
However, in an audion obtained by PeoplesGazette Governor El-Rufai was heard allegedly accusing Ganduje of sponsoring the labour protest.
While reportedly confirming sending thugs, the Kaduna governor stated that he thought they would have been able to neutralise the protesters.
"Nobody wants to confront the union. I'm the only bad politician in Nigeria, this whole thing is being financed by Ganduje. They came from Kano. When they got to Kano, they got paid and they came here," hesaid.
Though they have of the same political party, APC, El-Rufai and Ganduje have been locked in a longstanding political feud for a while.
While Ganduje's hobnobs with the former governor of Lagos State, Bola Ahmed Tinubu, El-Rufai has publicly slammed the APC national leader on a few occasions.
El-Rufai also reportedly angry with Ganduje over the dethronement of his friend, Sanusi Lamido Sanusi as the Emir of Kano.
Leaked Audio:
Source: Naija News