FG Takes Decision To Resolve Kaduna Govt, NLC Dispute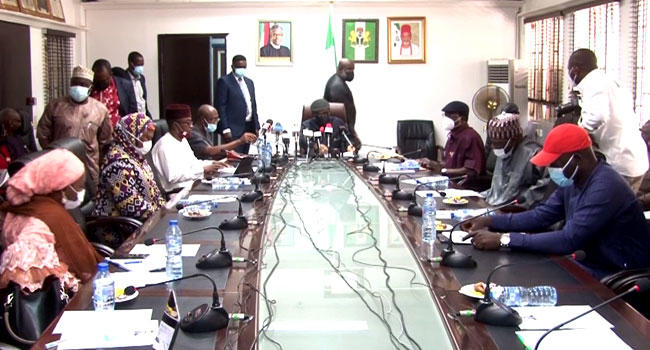 The Federal Government has inaugurated a 10-member committee to resolve the disagreement between the Kaduna state government and the Nigeria Labour Congress (NLC).
Minister of Labour and Employment, Senator Chris Ngige, announced the resolution to constitute the committee after meeting with the representatives of both parties, on Thursday, in Abuja.
The minister said the crisis was a result of a communication gap and will be resolved by the committee, stressing the importance of dialogue and the need for restraint in trying to enforce one's rights.
The minister said no worker will be victimised on the account of their participation in the strike, adding that the Federal Government was very concerned about developments in Kaduna due to insecurity.
He decried that the situation was further compounded by the strike, which was already crippling economic activities in the state, noting that this informed the intervention of the Federal Government.
The minister believes the labour issues could have been avoided and all parties to the negotiation are products of the Nigerian Constitution, hence the need to work together for the well-being of the people.
Ngige, however, warned that he would not hesitate to invoke relevant sections of the Trade Dispute Act and escalate the situation to the National Industrial Court if the intervention efforts fail.
He said: "They are to engage further with the objective of reverting with a work plan on how to integrate the provision of section 20 of the Labour Act CAP LFN 2004 to resolve the impasse between the state government and the NLC.
"The meeting also resolved that the Committee should have as chairman, the head of service of the Kaduna state government and assisted by a deputy national president of the NLC.
"The committee is expected to revert with the work plan for peaceful resolution of all issues in contention to the honourable minister of labour and employment by Tuesday, May 24."