Biafra: Kanu Refers To Gov. Wike As 'Fulani Lapdog'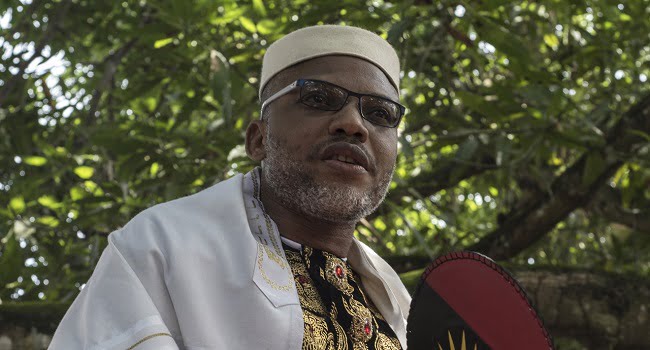 The leader of the Indigenous People of Biafra, Nnamdi Kanu, on Wednesday, warned politicians to stop referring to the first military coup in the country as the 'Igbo coup'.
The IPOB leader in his statement noted that the coup d'etat staged on 15th January 1966 should be tagged 'South-South' coup.
Kanu stated this in a post on his Twitter account while reacting to the statement of President Muhammadu Buhari's media aide, Lauretta Onochie, that Rivers State will not be part of the Biafra agitation.
Onochie had commended the Governor of Rivers State, Nyesom Wike, over his stand against the disintegration of Nigeria.
Governor Wike during a meeting with traditional rulers, political and opinion leaders of Ekpeye on Tuesday, noted that his government would not be dragged into any separation agenda.
He said, "We will do everything we can to protect the interest of our State. We are friendly people in this state and allow anyone to come here and do business. But nobody should go beyond doing business to hoist unnecessary flags here."
Onochie who supported Wike's statement on Twitter wrote, "Correct! Not an inch of the South-South will be annexed. We are Nigerians. Nothing more."
Kanu reminded Wike and Onochie that the last defunct Biafra President, Philip Effiong was from Ibiono-Ibom in Akwa Ibom State.
"Then educate your #Fulani Janjaweed masters to refer to the first coup in 1966 as South-South coup and not an Igbo coup."
"Your fellow #Fulani lapdog Wike should tell us which ethnic nationality General Philip Effiong, the last Biafra head of state, comes from. Ignorance is a disease," Kanu tweeted.
Source: Naija News