Breaking: DSS Breaks Silence On Mbaka's Whereabout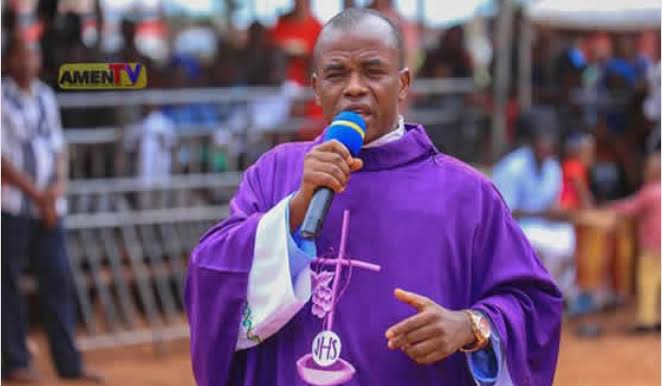 The Department of State Service on Wednesday disclosed that the Spiritual Director of Adoration Ministry Enugu, Rev. Fr. Ejike Mbaka, is not in their custody.
The development was confirmed by the spokesman for DSS, Peter Afunnaya, in a text message forwarded to PUNCH on Wednesday.
"He (Mbaka) is not with the DSS, please," Afunnaya wrote.
The Ohanaeze Ndigbo Youth Council Worldwide, OYC had raised an alarm on Wednesday, noting that the renowned Chrisitan cleric's whereabouts can not be ascertained at the moment.
Mazi Okwu Nnabuike, the President-General of OYC who disclosed the development in the statement signed by him said: "We have it on good authority that his aides have neither seen nor heard from him since Tuesday."
"Calls put to his mobile line have also remained unanswered; this has now prompted us to issue this alarm as we would not take it lightly should anything untoward happens to him," Nnabuike claimed.
When officials of the Diocese of Enugu, to which Fr. Mbaka belongs, were contacted, some of them said he was not missing while others said they cannot confirm his whereabouts.
Recall that Mbaka recently called on President Muhammadu Buhari to resign or be impeached by the House of Representatives due to the security challenges in the country.
The presidency, however, noted that Mbaka called out the President because he was refused contracts by Buhari.
Reacting to the accusation, Mbaka admitted that he led three security experts to the President to proffer solutions to the insecurity ravaging the country even as he said that those people were not known to him.