Isa Pantami: Learn To Keep Your Mouth Shut – Fani-Kayode Tackles Sheikh Gumi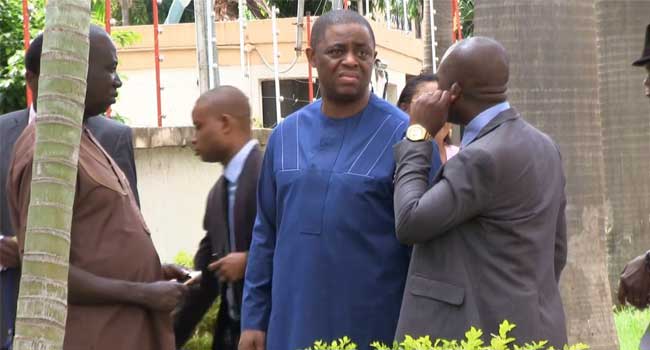 Former Aviation Minister Femi Fani-Kayode has berated Sheikh Abubakar Gumi over comments he made on the removal of Nigeria's Minister of Communication and Digital Economy, Isa Pantami.
Naija News reports that Nigerians had called on the Buhari govt to sack Isa Pantami for backing terrorism some years back.
But the presidency on Thursday vowed not to sack Isa Pantami while insisting that the minister has apologized for his views on Boko Haram, Taliban and Al-Qaeda.
Gumi had warned against the sacking of the minister, saying that Nigeria will regret it if Pantami is sacked by Buhari.
Responding in a recent interview online, Fani-Kayode asked Gumi to learn to keep his mouth shut, adding that the clerci speaks for misguided people.
"His father, Sheikh Abubakar Gumi, was the man that said that Nigeria would never have a Christian President during his lifetime, he died a few years later and a Christian became Head of State, that was a prophetic thing," he said.
"The man died and a Christian took over the country. Now I can see that the son has taken his father's mantle and he's speaking nothing but absolute nonsense.
"He speaks for a large segment of people in the core north who are misguided and don't know any better and I think this is the sort of thing that upsets many of us. Nobody can tell me that it's right and proper for him to say that if Pantami is removed, we will regret it. I mean, who the hell does he think he is. Who do they think they are? We all own this country, and let me put this to him right here on this programme."
Fani-Kayode warned that the present administration will regret it if nothing is done about people like Pantami, especially in a situation where they're trying to fulanize and Islamize the nation through jihad.
He said, "If you want Nigeria to remain together, they better learn to keep their mouths shut and stop insulting southerners, middle belters, Christians, stop provoking us, stop killing us and telling us that you own this country and every one of us. We cant be slaves; I will never be a slave to anybody; what I mean by that is if you don't stop, then you'll see another dimension of this struggle.
"We are calling for the restructuring of this country; most of our youths are calling for restructuring."