PDP NEC Passes Vote Of Confidence On Secondus, NWC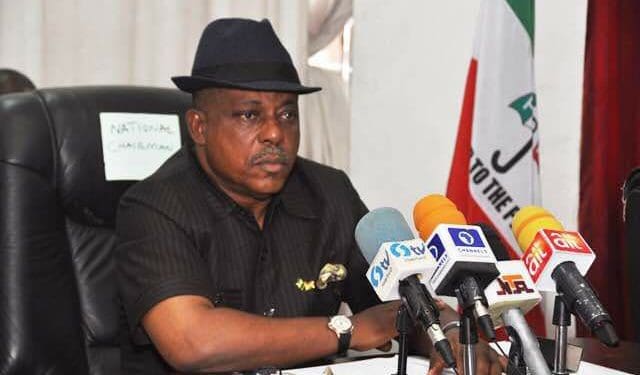 The National Executive Committee (NEC) of the Peoples Democratic Party (PDP) has passed a vote of confidence on its National Working Committee (NWC).
At its emergency meeting in Abuja on Thursday, the NEC endorsed the NWC led by its chairman, Uche Secondus, and asked members of the party to be wary of "agents of distraction and division."
It wrote via its Twitter handle: "The PDP NEC unanimously passes vote of confidence on the Secondust-led NWC of our great party and urges members to be wary of agents of distraction and division."
Afegbua Alleges Corruption
Recall that a former spokesman for the PDP Presidential Campaign Council, Kassim Afegbua, had asked the anti-corruption agencies in the country to probe the party's leadership over alleged corruption.
Speaking on Monday when he visited the offices of the EFCC and ICPC to submit his petition, Afegbua asked the two agencies to look into the financial transactions of Secondus.
Afegbua alleged that much of the financial transactions of the PDP under Secondus have been shrouded in mystery and accused the leadership of a deliberate attempt to short-change the party in the build-up to the 2023 general elections.
In the petition, he asked the anti-graft agencies to look into and scrutinise close to N10 billion that allegedly accrued to the party's purse from 2017 till date, especially those that were as a result of sales of nomination forms for presidential, governorship, House of Assembly, and senatorial elections.
Afegbua alleged that the national chairman avoided the use of the party's bank accounts and used one Morufu Nigeria Limited as a conduit pipe for financial mismanagement in the sales of forms in 2019.
Describing the alleged action as an aberration, he called on the EFCC and ICPC chairmen to urgently ensure that due diligence was carried out to safeguard Nigeria's democracy and guarantee the interest of the party's members.
Afegbua stated that should the anti-graft agencies delay in carrying out their investigations, he would have no option but to seek legal redress in the court.
PDP Reacts
However, the party had denied the allegation that it generated about N10 billion from donations and the sale of forms in 2019.
But in a statement on Monday by its National Publicity Secretary, Kola Ologbondiyan, the PDP described the claim by Afegbua as spurious and irresponsible.
Ologbondiyan stated there was no truth in the allegation, stressing that the party generated N4.6 billion and raised a budget for its expenditure, in line with all known financial regulations of the PDP.
He said the party has since submitted the audited account of its financial expenditures to the Independent National Electoral Commission (INEC) for 2019, in line with statutory requirements of the law.