Insecurity: The Nation Is On Fire; The President Must Rise – Sen Adeyemi Weeps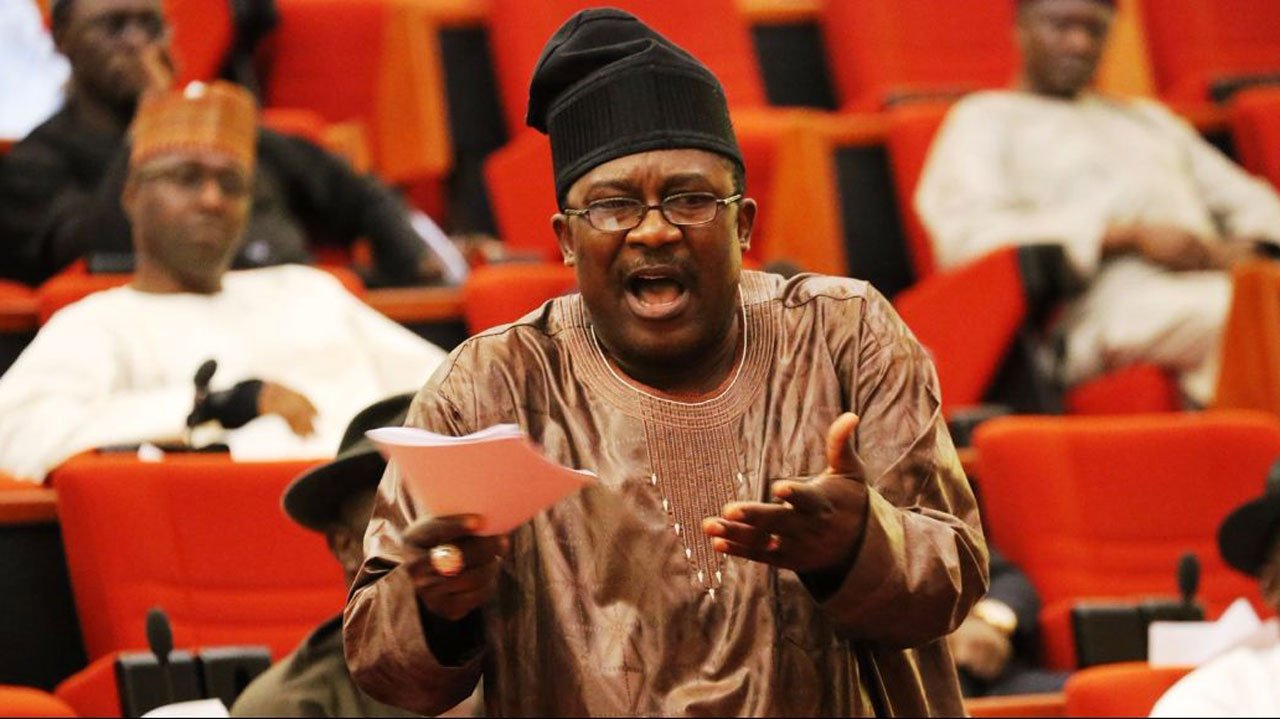 Kogi West Senator, Smart Adeyemi on Tuesday declared that it is time to put away politics and call out President Muhammadu Buhari over the growing cases of insecurity in Nigeria.
The Senator who lamented in very emotional tones that no one feels safe in the country again noted that Nigeria must put away ego and seek international help in overcoming insecurity.
Senator Adeyemi made the submission while contributing on the floor of the Senate to a motion raised by Niger East Senator, Sani Musa, who called the attention of the lawmakers to the fact that Boko Haram terrorists have taken over three Local Governments in Niger State.
Adeyemi lamented the current helplessness of the country, calling for partisanship and ethnicity to be dropped while the leaders work together to make Nigeria safe again by ending the bleedings caused by bandits, terrorists, and criminals in all parts of the country.
He lamented that despite the huge amount of money and resources been pumped into the security sector, there have been little or no results to show.
In his words, "Mr President, insecurity is a serious problem today in Nigeria, and there come a time where we can do nothing, but to speak the truth irrespective of sentiment.
"Today Mr. President, all of us are being threatened. A lot has been said this morning Mr. President and I want to thank you for giving us time to speak expressly on this issue.
"Like my sister was saying, there come a time when talk will talk itself. There comes a time when truth becomes a torchlight.
"We need not run away from the fact that more than ever before in the history of our nation, this is the worst instability so far and because of insecurity in our nation, today there are of lot misgivings; there are a lot lot of misinterpretation.
"Some persons believe it is government that is supporting terrorists; some people believe some persons sponsored those who are destabilizing our nation. We are not pretending we are capable of confronting the situation in our hand.
"America as powerful as they are, when pandemic came through China they woke up to their responsibilities. We shouldn't pretend that we needed foreign support."
"Let nobody deceive us Mr. President. A lot of millions of naira has been put into security services nothing is coming out of it. We wouldn't wait until our nation got burnt. Let us get up and call for foreign support. I am APC and I have been supporting our party, but let the President know that we who support APC could no longer keep quiet.
"The President must rise to the occasion. The nation is on fire; the President must rise to the occasion. It cost us nothing to get foreign support. We must rise to the occasion of speaking the truth to save this country or else we will be consumed.
"Everyone of us has a chapter of history. When the history of this period is told, whatever is our position will be a chapter.
"We cannot keep quiet any longer. It has gotten to a level that we can no longer sleep with our eyes closed. Our children are not free. The President must rise to the occasion.
"The situation is our security system has collapsed; it has failed, because it has failed, we need foreign support, it cost Nigeria nothing. Forget the ego, forget Nigeria in African nation.
"From the North to the South nobody is safe and Boko Baram are to kilometres to the nation's capital and today, I cannot travel to Kaduna and Niger State where I was born.
"The President knows this is a bad time for our nation. They are killing people in the East. What are we doing in the National Assembly? Our country is bleeding."
In a similar vane, former Senate President, Abubakar Bukola Saraki, has called on President Muhammadu Buhari and the All Progressives Congress (APC) to seek urgent help over Nigeria's worsening security situation.
In a statement on Tuesday, Saraki condemned the multiple attacks on lives and properties in the country on Monday which claimed at least 15 cops and five soldiers.
The PDP stalwart also lamented the killing of abducted students of Greenfield University in Kaduna, adding that the situation "cannot continue" and "cannot become Nigeria's new normal".
Source: Naija News