Gov Mala Buni 'Missing' As Boko Haram Continue Attack On Geidam, Yobe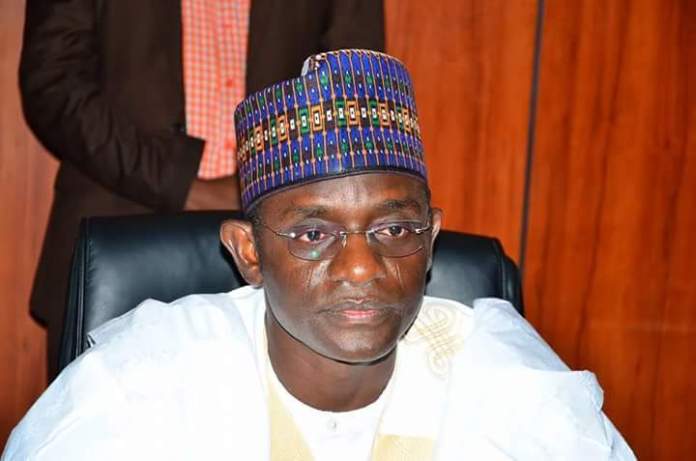 The whereabouts of Governor Mai Mala Buni of Yobe State have been unknown since Boko Haram insurgents launched a coordinated attack on Geidam.
It remains unclear if the Yobe governor is in the state or in Abuja where he usually spends most of the time attending to issues of the ruling All Progressives Congress (APC), which he chairs.
Buni who has been in charge of APC since Adams Oshiomhole was sacked by a court, has devoted most of his time to the ruling party, leaving the running of his state to his deputy.
Naija News reports that Boko Haram insurgents and the military exchanged firepower on Friday in Geidam.
After airstrikes by the military, the insurgents beat retreat but they returned hours later and have been wreaking havoc on the town since then.
About 11 persons of the same family were reportedly killed as a result of an explosive that struck their home at Saminaka Area close to military camp in Geidam.
"We lost 11 people in the terrorist invasion and the gunmen are still in the town," Ali Kolo Kachalla, Geidam political administrator, said.
"Our people are trapped in the town and soldiers have been prevented from leaving," Kachalla said by phone from the state capital Damaturu.
The victims were killed when a projectile hit two adjoining homes in the Samunaka neighbourhood of the town during the fighting between troops and the militants, residents said.
"A projectile fell on the two houses, killing all the 11 occupants, six from one house and five from the other," said resident Babagana Kyari.
The militants destroyed telecom masts in the town, save a few from a mobile carrier, making communications limited.
"The insurgents looted provision stores before setting them on fire," said resident Ari Sanda, adding the fighters seized a military armoured vehicle and destroyed three trucks.
Following the invasion on Friday, a fighter jet deployed and engaged the militants who hid among the civilian population to evade aerial attack, the sources said.
On Saturday the jihadists came out of hiding and were joined by more of their comrades who arrived in the town in trucks, the residents said.
"They are still in the town, they are camping under trees, with some of them sleeping," said Kyari.
Despite assurances they would not harm civilians, residents remained indoors while some tried to flee.
Troops have blocked the road out of town, preventing panicked residents from leaving, prompting some to trek into the bush while others took boats to the other side the river to escape, said residents.
Source: Naija News