You Won't Suffer Political Persecution Like Okorocha If…. Group Tells Wike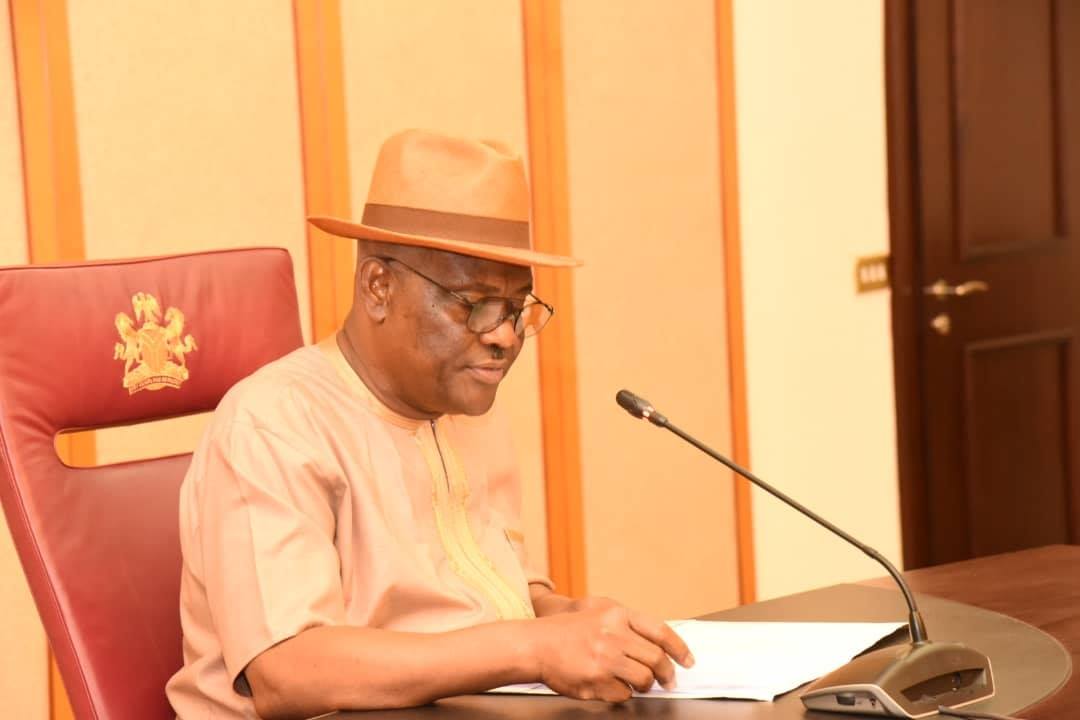 Incumbent Rivers State Governor, Nyesom Wike has been assured that he won't suffer political persecution when he leaves office if he plays by the rules.
A Niger-Delta group, identified as the Movement for the Survival of Izon Ethnic Nationality in Niger Delta (MOSIEND) gave the assurance in a statement on Friday by its National Secretary, Amain Winston Cottrell.
The group assured that once Wike doesn't attempt to impose a successor on the people of the state, and remains upright, prudent, transparent and unbiased, he should be well assured that his interests will also be protected.
Naija News recalls Wike had earlier declared that he is anticipating political persecution from opponents once his tenure ends in 2023.
He however added that he is prepared for whatever may come his way and has started preparations for such scenarios already.
Wike who revealed that he has already moved out of the government house in Rivers even before the expiration of his tenure noted that those in power do not like those who speak the truth but he won't because of fear bend to anyone's wishes.
But MOSIEND has told the Governor that he needs not to fear any imaginary political victimization after he leaves office in 2023.
The group added that former Imo Governor, Rochas Okorocha got into trouble with the people of his state because he attempted to impose a successor on the people.
"Honestly, it is not possible for anyone to occupy that exalted office for eight years without having a score or two to settle with one person or a group of persons. These things are normal in leadership, particularly in our peculiar political environment. It's even more prevalent in a heterogeneous state such as Rivers, with diverse ethno-political and economic interest," Cottrell said.
"Gov Wike surprised us by that singular statement, I mean we were all witnesses to Okorocha's desperate bid to impose his son-in-law against the popular wishes of the people, which pitched him against the people of Imo State ahead of the 2019 Imo elections. This habitual habit of anointing a successor at all cost, was one of the undermining factors that worked against Okorocha, who still remains bitter that his intention to make governance in Imo State a family affair did not come to fruition. So, we are not surprised about his current travails which we believe is self-induced.
"Going forward, Gov Wike still have two years ahead to do what is right, apart from infrastructural development, with particular reference to the road constructions which is commendable and a major selling point of his administration, other areas have suffered a huge setback and need his prompt and timely intervention. For instance, the Governor needs to also give priority attention to critical areas of development such as empowerment, unemployment, insecurity, healthcare delivery and social security"
The statement by MOSIEND also commended Governor Wike for his decision to move out of the government house two years before the expiration of his tenure, noting that the move will free up funds that could have been used in maintaining the government house for use in other areas.
"We commend the decision of the Governor for not getting used to the Government House, by planning his exit strategy of gradually relocating to his beautiful and magnificent abode, at least, it will cut cost of running the Government House when he is there and such monies will be applied to other economic yielding ventures for the state. Above all, the Governor should evaluate his relationship with the youths as they are unhappy about the way he abandoned them immediately after winning the 2019 reelection bid. Unlike Okorocha, Wike has the opportunity to go back to his normal self of empathising and caring for the downtrodden Rivers people who stood by him and supported him all through 2019 elections", Cottrell added.
Meanwhile, Governor Nyesom Wike of Rivers State has advised Nigeria's Minister of Communication and Digital Economy, Isa Pantami, to resign his appointment immediately.
In a series of post on his Twitter handle, Wike stated that he would have resigned if he found himself in the situation of Pantami.
According to the Rivers governor, it is unreasonable for Pantami to still be a member of the Federal Executive Council.
Source: Naija News