'It's Deeply Insulting' – Fani-Kayode Knocks Buhari For Supporting Pantami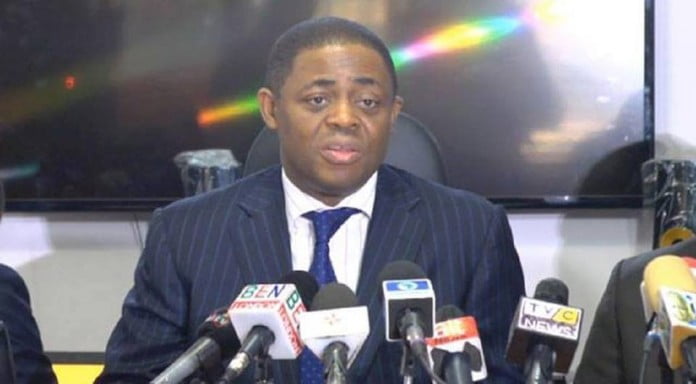 Former Aviation Minister, Femi Fani-Kayode has berated Presdient Muhammdu Buhari for supporting controversial Minister of Communications and Digital Economy, Dr. Isa Ali Pantami, despite calls for his removal.
Recall that presidential spokesman, Garba Shehu, had said that there was a "cancel campaign" against the minister for holding views in the past that he has since renounced and apologised for.
In a statement on Thursday, the presidency added that it was supporting the minister despite widespread calls for his removal.
"The Minister of Communications and Digital Economy, Dr Isa Ali Ibrahim Pantami is, currently, subject to a "cancel campaign" instigated by those who seek his removal.
"They do not really care what he may or may not have said some 20 years ago: that is merely the instrument they are using to attempt to "cancel" him. But they will profit should he be stopped from making decisions that improve the lives of everyday Nigerians.
"The Minister has, rightly, apologized for what he said in the early 2000s. The views were absolutely unacceptable then, and would be equally unacceptable today, were he to repeat them. But he will not repeat them – for he has publicly and permanently condemned his earlier utterances as wrong.
"In the 2000s, the Minister was a man in his twenties; next year he will be 50. Time has passed, and people and their opinions – often rightly – change.
"But all discerning Nigerians know this manufactured dispute is nothing to do with the Minister's prior words, but solely concern his actions in the present," the statement reads in part.
But in a series of tweets via his Twitter handle on Friday, Fani-Kayode said it is an insult to Nigerians for President Buhari to keep Pantami in his office despite the controversies surrounding him.
Fani-Kayode wrote, "There is NO place in any civilised nation for a terrorist who delights in killing his compatriots in the name of his faith.
"No matter who supports or defends him, the Nigerian people will NEVER accept or bow to the dictates & salafist philosophy of a violent & unrepentant jihadist.
"Nigeria is a secular state. We oppose those who say otherwise and we deplore those that believe that they can continue to ignore the sensitivities of millions of Nigerians by playing down the dangers and damage of having a man like Pantami in Government. It is deeply insulting."