Pantami Speaks On Relationship With Boko Haram, Says "I Have Changed"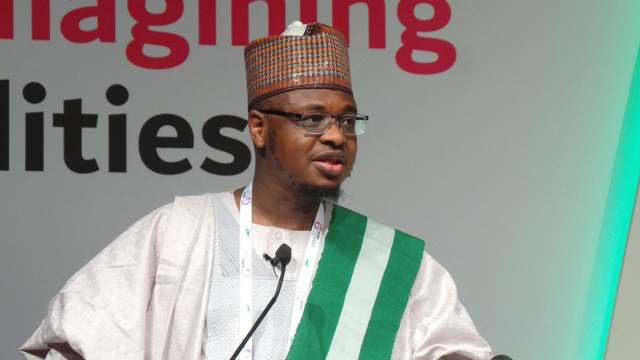 The embattled Minister of Communications and Digital Economy in Nigeria, Dr. Isa Ali Ibrahim Pantami has disclosed that he is not a Boko Haram sympathizer neither does he support terrorism.
The Minister who has been in the eye of the storm in recent days said some of the comments for which he is been tackled were made when he was a teenager and didn't know better.
Pantami however added that he has changed his views about some of his earlier positions for which he is being criticized currently by many people.
He added that he supports the freedom of religious association as guaranteed under Nigeria's constitution and he changes his stance on issues once he realizes he is wrong.
To back up his claims of becoming a changed person, Pantami noted in his defence that he has travelled to many countries and northern states such as Niger Republic, Katsina, Borno, and Gombe where he openly spoke and opposed the Boko Haram ideology.
"On the claim that I am a Boko Haram sympathiser, I want to say that people who have been following my religious evangelism, as a scholar, dating back from 2005 and 2006, know me better. They know what I often preached about."
"Besides the evangelism missions I embarked on to speak against religious fundamentalism, I also published pamphlets on the nefarious activities of the terrorists' sect," he said.
He added that he is now more exposed and enlightened which has made him change some of the radical ideologies he held on to when he was a teenager and still growing up.
Pantami blamed the social media calls for his resignation or sack by President Muhammadu Buhari as the handiwork of political enemies.
"I have changed my stance on some issues based on additional facts even after expressing Fatwa, a non-binding religious opinion in response to a question posed to me," he said.
"If we recalled, President Joe Biden of the United States, then as a Senator in America, did not support the invasion of Afghanistan by his country. And at that time, I also did not.
"So, anything that will lead to war is what I have always been against. That is why I don't like injustice.
"Barack Obama as American President then sought for understanding between the Muslim nations when he realized what he was thinking about them was wrong.
"So, in any given time, the last position is the right position, and that represents my views.
"I once saved two Corp members who were about to lynched in Bauchi State during a fight between Christian and Muslims. I personally took them to the mosque to save their lives.
"So, anybody who will protect Christians will you still call him a fanatic?
" Also, I want to say that I was never suspended or expelled from any school as a student or lecturer because of my views, especially on religious matters," he added.
The Minister was reported by PR Nigeria to have made his defence during a Ramadan lecture at Al-Nur Mosque in Abuja over the weekend after initial reports suggesting he has links with Boko Haram and other terrorist organizations and that he has been placed on America's watchlist for links with terrorists.
Though the original story on being placed on the American watchlist has been retracted, several other reports have continued to emerge linking the Minister with radical religious views and ideologies.
Meanwhile, the leader of the Indigenous People of Biafra (IPOB), Nnamdi Kanu, has attacked Nigeria's Minister of Communication and Digital Economy, Isa Pantami, over comments praising terrorist groups.
In a post on his Twitter handle, the pro-Biafra activist stated that a terrorist sympathizer cannot repent.