AGF Abubakar Malami Collapses In Sokoto, Hospitalized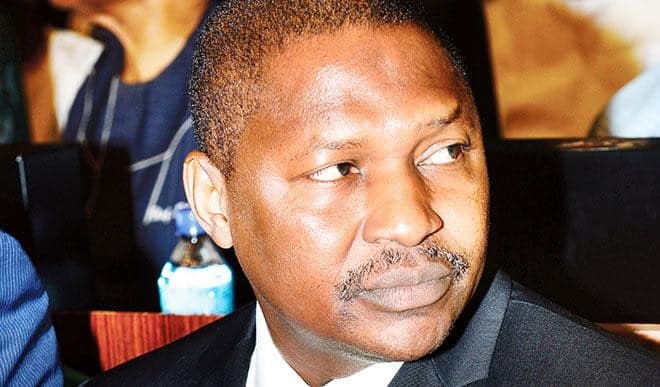 The Attorney-General of the Federation and Minister of Justice, Abubakar Malami has reportedly been hospitalized after collapsing in Sokoto state.
It was gathered that the AGF was in Sokoto on Monday for the inauguration of the reconstructed State High Court complex by Governor Aminu Tambuwal.
Malami reportedly collapsed after delivering his address at the ceremony and was quickly revived by his aides and dignitaries who helped him to stand.
He was subsequently hospitalised at a private facility upon his return to Abuja.
A source revealed to SaharaReporters that AGF Malami attended the weekly Federal Executive Council meeting on Wednesday but was returned to the hospital few hours later.
Meanwhile, the National Leader of the All Progressives Congress (APC), Asiwaju Bola Tinubu has declared that he is not responsible for the bags of rice depicting his face currently being distributed in some states in the northern part of the country.
Tinubu in a statement on Thursday evening through his media team noted that he has become aware of the rice distribution with his face emblazoned on the bags, but he is not the one behind the initiative.
The APC chieftain, however, commended those behind the initiative noting that their acts of charity particularly in the holy month of Ramadan is highly appreciated.
The statement which was also retweeted by Tinubu reads: "We have seen the images being circulated of bags of rice depicting Asiwaju's face being distributed across parts of the North."
"While Asiwaju is not responsible for this initiative, he wishes to commend the efforts of the various volunteer groups responsible for this benign act of charity and love for one another, particularly in this Holy month of Ramadan."