Rita Edochie Finally Forgives Comedienne Ada Jesus [Video]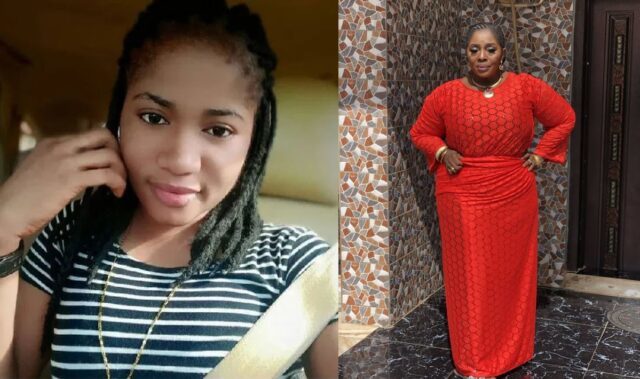 Popular Nollywood actress, Rita Edochie has finally forgiven ailing comedienne and social media celebrity, Ada Jesus.
Recall Ada Jesus had accused popular prophet, Chukuemeka Odumeje, of conniving with the actress to stage fake miracles and help Edochie get men that sleep with her.
A few months later, the comedienne came down with a kidney problem that got her incapacitated and unable to speak after she made the allegation in 2020.
However, Ada Jesus has released a video from her sickbed to plead for support and prayers from fans and well-meaning Nigerians to help her beg popular native doctor, Chi Marine, Odumeje, and Edochie.
While many prayed for her quick recovery, others advised her to go and ask for forgiveness as they claimed she has been abusive to pastors, native doctors and many notable people in most of her videos and that her sickness may not be ordinary.
The family of the commedienne took her round to seek forgiveness from different people she had provoked in her social media videos.
She was taken to Chi Marine's shrine to beg the native doctor for forgiveness. He received them, forgave her, and performed some rituals to reverse the curses he had laid on her, and also gave her a sum of 100,000 naira.
However when she was taken to Prophet Odumeje's church to seek forgiveness from the man of God and Rita Edochie who is also a member of the church. They bluntly refused to forgive her as they rained more curses on her.
Odumeje and Rita Edochie's actions were publicly condemned by many social media users who blasted them for not acting like true Christians.
Well, Rita Edochie has now released a video to announce that she has now forgiven Ada Jesus, citing that she has been receiving series of calls from around the world ever since the news started making rounds on Sunday.
The veteran actress wrote on Instagram: ADA JESUS I HAVE FORGIVEN YOU
"I am happy that the WHOLE WORLD has seen that Ada Jesus framed all SORTS of LIES and HEAPED on ME. I have been VINDICATED by Ada's PREDICAMENTS. The good LORD has FOUGHT my BATTLE for me.
As a RESULT of PLEADINGS from people, PARTICULARLY my FANS, I have FORGIVEN her.
Let HER beg GOD for FORGIVENESS and HEALING.
Watch the video below: