Isa Pantami Reacts To His Alleged Enlistment On US Terror Watch-List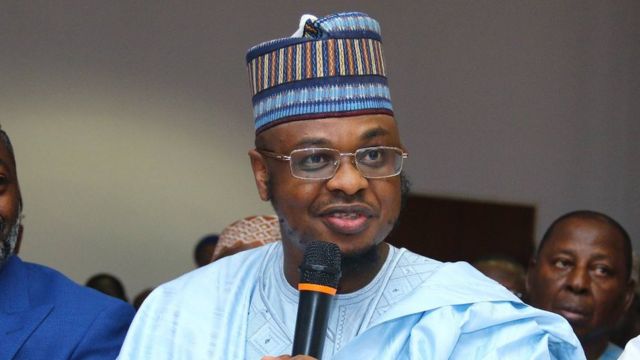 Nigeria's Minister of Com­munications and Digital Economy, Isa Ali Ibrahim Pantami, has reacted to reports making the round that the United States Government placed him on their terrorism watchlist.
Naija News had reported earlier that the minister was allegedly placed on the watchlist due to his alleged ties with Boko Haram and Al-Qaeda.
The news monitored by this online news platform on Daily Independent Newspaper, quoted Western Intelligence saying that the minister had ties with Abu Quata­da al Falasimi and other Al-Qaeda leaders that he revered and spoke glow­ingly of in several of his videos on YouTube.
Reacting to the viral reports on his Twitter account on Monday, April 12, Pantami said investigative journalism requires thorough investigation before publishing, not after.
Naija News understands that the minister stated this while reacting to a publication retraction by the NewsWireNGR. Pantami threatened that major publishers will meet his lawyers in the court for defamation of character.
His tweet reads: "Your RETRACTION through your independent investigation,has been noted. However, investigative journalism requires the investigation before publishing, not after.
Further, major publishers will meet my lawyers in the court on this defamation of character."
"My lectures against the doctrines and all other evil people have been available for over 15 years, including debates that endangered my life against many criminals in Nigeria. If you can't understand Hausa, get an objective Hausa speaker to translate for you objectively.
"On the issue of NIN-SIM Verification to fight insecurity, there is no going back. Our priority as GOVERNMENT based on the provision of our constitution 1999 (as amended) Section 14(2)b is SECURITY, not just economy. For sure, no going back at all. Let's the sponsors continue".
See the tweet below:
1) @NewsWireNGR your RETRACTION through your independent investigation,has been noted. However, investigative journalism requires the investigation before publishing, not after.
Further, major publishers will meet my lawyers in the court on this defamation of character. https://t.co/08W3dP4tlf

— Isa Ali Pantami, PhD (@DrIsaPantami) April 12, 2021