Boko Haram: NAF Denies Hiding Information On Missing Fighter Jet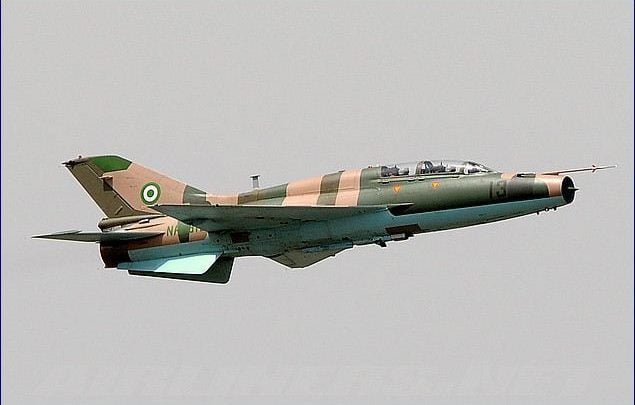 The Nigerian Air Force (NAF) has declared that the missing Alpha jet which disappeared from the radar on Wednesday, March 31 while on a mission against Boko Haram is yet to be found.
The NAF spokesperson, Air Commodore Edward Gabkwet made the declaration while reacting to allegations that the Air Force was hiding some things about the missing jet.
He noted that the NAF authorities are concerned not just about the missing jet but the pilots who were on board when it went missing.
Gabkwet explained that efforts to locate the crashed site of the jet and the pilots are still ongoing while members of the public will be briefed appropriately on any development.
"Efforts are continuing intensively and until we find that crashed aircraft we will not rest in that.
"Efforts are ongoing to recover the crashed air craft, we have not been able to locate it yet. I know all hands are on deck to see that we locate the crash site so that we can go on from there.
"I can assure that as soon as there is new information, I will be the first to make a press release on that immediately.
"The lives of our two pilots are also involved and I am sure that their families are also very anxious to hear from us and of cause we also need to find out the whereabouts of the pilots. It is actually important to us.
"We will definitely inform the families and the entire nation of what happened, we are not hiding anything," he declared.
It will be recalled that shortly after the jet went missing, the Boko Haram terrorist group had released a video in which it claimed responsibility for shooting down the jet.
The Air Force however debunked the claim, accusing the terrorist group of fake news and attempting to attract publicity through cheap propaganda.
Meanwhile, former Minister of Interior, Lt. Gen. Abdulrahman Dambazau (retd.), has come under heavy criticism for comparing the Indigenous People of Biafra (IPOB), and Oodua Peoples Congress (OPC) with Boko Haram.
The former Army Chief had said the proscribed IPOB and OPC shared similarities with the terrorist group, Boko Haram.
Speaking on Friday in Abuja at the inauguration of Army War College Nigeria Course 5/2021, Dambazau said that both the OPC and IPOB were making attempts to plunge the nation into an ethnic war.
But in a statement on Sunday, by its National Director of Information, Edeson Samuel, MASSOB described the statement credited to Dambazau as unguided, reckless, debasing, and unprofessional.
Source: Naija News