Ada Jesus: Prophet Odumeje Is Not A Christian – Fr Ugwu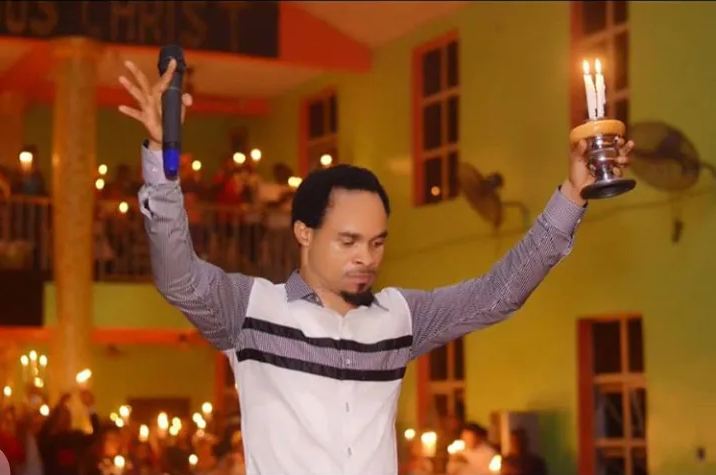 A Catholic priest, Father Kelvin Ugwu has alleged that popular cleric, Prophet Chukwuemeka Odumeje is not a Christian.
He stated this in a Facebook post over the reported refusal of Odumeje to forgive comedienne, Ada Jesus who accused him of faking miracles alongside Rita Edochie.
This comes after Rita Edochie and an Asaba-based native doctor, Chi Marine both declared that they have forgiven the comedienne.
But Fr. Ugwu said the refusal of Odumeje to forgive the comedienne shows he's not a Christian at all as his action contradicts everything Christianity stands for.
He wrote: "Because we like to play to the gallery, because we are mostly never sincere to ourselves, and because we play too much, that is why you will see the words "Christian", "pastor", and "Odumeje" in one sentence".
"Some of you mistake "thou shall not judge" for "thou shall not say the truth." This is why even a Catholic Church in the east had to invite Odumeje to one of their programs and he came and turned everything into a show.
"Well, for a truth, he entertains, that was why I once wrote about him as the new clown in town. But you see, the moment you call him a Christian pastor, you immediately insult everything Christianity stands for."
Meanwhile, gunmen who abducted a Catholic priest in Imo State, Rev. Prof. Izu Marcel Onyeocha have released him.
His release was confirmed in a statement on Monday by the Owerri provincial secretary of Claretian Missionaries, Rev. Fr. Matthew Iwuagwu.
He narrated that Fr. Onyeocha was dropped off at the Ihube Community in Okigwe council area of the state in the early hours of Monday.
The spokesman of the state police command, Orlando Ikeokwu, also confirmed the release.
Fr. Iwuagwu explained further that the kidnappers got frustrated as no one was willing to pay ransom for the kidnapped priest and were therefore forced to release him.